Boys basketball move into second round after energetic win over Brighton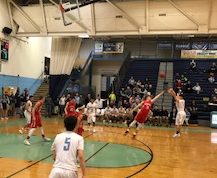 Hang on for a minute...we're trying to find some more stories you might like.
The boys basketball team hosted Brighton High School last night in a 5A state playoff game and beat the Bulldogs, 66-58, in what was an exciting and eventful night.
West came out of the gates hot scoring 14 points in the first quarter and holding Brighton to only 10. Then in the second quarter, West started to develop a very comfortable lead holding Brighton to only three points compared to their 17 points.
After the third quarter, things started to heat up. Brighton started to play with a lot more fire after one of their fans was removed from the game because of a situation involving some players from West along with Brighton players on the floor. The energy in the game was refilled and it "added a boost to the players from West" as junior Andre Sepeda called it, and the game instantly got more exciting.
Sepeda also led the stat column with 28 points, two rebounds, five assists, and four steals. He was asked what his thoughts on the game were and how he prepared for the game and what helped fire him up. "It was just really cool to have a home playoff game after all the hard work that the guys put into this season. We deserved the win and we got the win. We played as a team and we were the better team."
The team will travel to Thunderridge High School on Saturday to play against the Grizzlies. The Grizzlies will enter the game as the No. 1 team in the state, but are the #2 overall seed in the tournament with a 22-1 record.