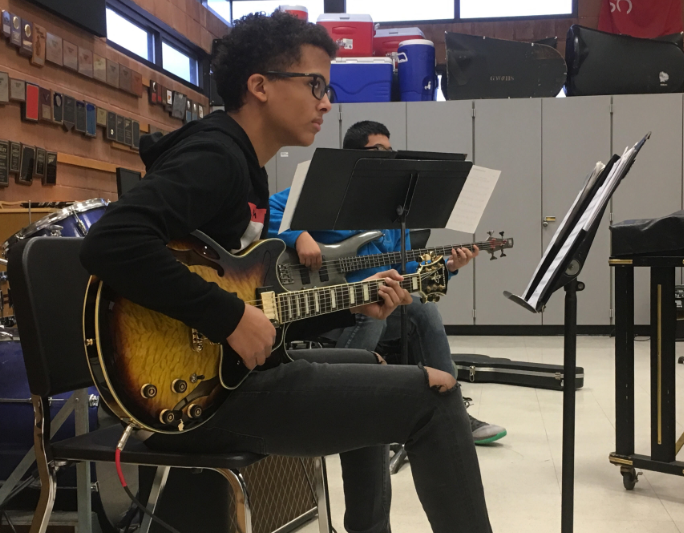 Megan Battleson
Lots of high school kids can get by on Guitar Hero, but few can shred guitar like freshman Liam Garcia.
For 11 years, Garcia has been pursuing his love for music through the guitar. Due to his parents' involvement, music was an interest early on in his life. "My dad is a guitarist and both of them are musicians," Garcia said.
After starting on an electric guitar, Garcia has continued on the same path because he feels that he is "better expressed on electric" as it better matches his playing style and preferred genres. Currently, Garcia is experimenting with a genre called fusion, a mashup of rock and jazz. Garcia's favorite part about this unique mixture is that, "it combines the best of both worlds, putting technical jazz aspects with rock".
Since first picking the instrument up at three years old, Garcia has being making great strides in his playing ability. To hold himself to a higher standard, he has being attempting to carve a two to three hour practice session out of his busy schedule every day, although "with extracurricular, it's become more of weekend binges." The majority of his individual rehearsing contains technique and mechanical work as well as improvisation exercises.
In addition to playing as an individual, Garcia also contributes to music groups at West. Before school, Garcia rehearses with the jazz band as the group's guitarist. After playing bass for three years at Chappelow Middle School, Garcia was placed directly into the chamber orchestra at West. When asked about his thoughts on playing in music groups at West, Garcia said, "you get to play music with other people and I think that's really cool."
With the improvement that Garcia is seeing, he has received several opportunities to continue and improve on his playing. All three years of middle school, Garcia participated in All State Orchestra groups and hopes to continue his work at the state level in his high school career. He has also been offered a full ride scholarship to take part in a five week camp at Berkeley College this summer. Guitar "has opened up a lot of opportunities for things that I would never have gotten without it," Garcia reflected.