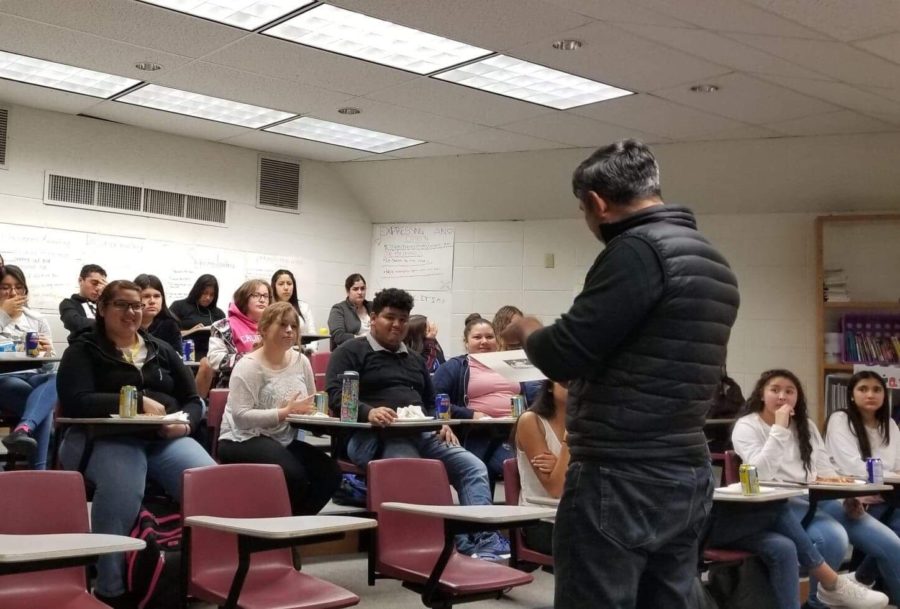 It was a delight for students at Greeley West High School to experience a special presentation from Mizrain Cardenas an artist from Michoacán, Mexico on Thursday November 15. Lunch was provided to students to have as much time as possible with Cardenas as time was limited. For Cardenas, it was a pleasure to talk to students and encourage them to follow their passion.  The presentation was sponsored by Greeley West's LULAC.  
Cardenas talked about his development in the art world and how his early childhood influenced his art. Cardenas brought in two art pieces for the students to see including a PowerPoint.
Cardenas is a professor at the National Autonomous University of Mexico. Arriving to the United States for the first time in 1997, Cardenas usually comes to the U.S. for expositions but has recently come for workshops, classes and to display others artist work. Cardenas artwork is focused on visual arts. Many of his artwork can be find in Mexico where he is better known. Cardenas was taught by other artists thanks to his mother, who at an early age gave Cardenas the materials to create art.  
Students were excited to have an artist that represents their culture come to talk to them and show them his art. Student Mariana Munoz Garcia stated, "Although I'm not Mexican, I feel proud that a Mexican artist would come to Greeley to represent who he is."  
Through his visit, Cardenas hoped that students, "find the sense and passion in what they do." His belief is that every person when born has that interest in art, but slowly loses it through life.