Holocaust survivor shares story with West students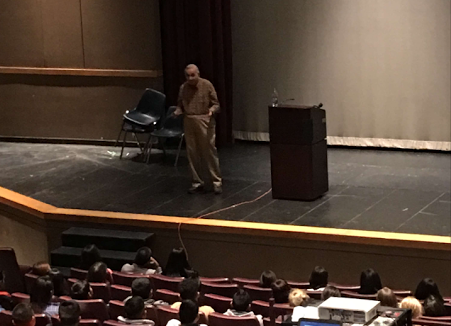 Hang on for a minute...we're trying to find some more stories you might like.
Last Tuesday, Greeley West welcomed Holocaust survivor, Steen Axel Metz. Metz was a young boy during the Holocaust and is now around 70 years old.
Metz came to Greeley to share his story with the community with a handful of engagements last week. Along with coming to Greeley West, Metz made the trip to many other schools including Platte Valley.
Metz talked for about an hour and a half and left a big impact on the West community.
Metz talked to around 200 kids in the auditorium about his life story. Metz was born in Odense, Denmark and grew up as a young Jewish boy.
He was put into the Theresienstadt Concentration camp on October 2, 1943 with his two parents. The Theresienstadt concentration camp was not like Auschwitz as there was only seven murders. "It was more of a work camp," Metz stated.
Metz has talked to many students all around the world and left a big impact through his story. As a young boy he watched his parents struggle and pass away from starvation. After the War ended Metz fled to the United States to start a new life.
Junior Oscar Flores stated, "It was my first time seeing a Holocaust survivor and its crazy to think that he lived through all that chaos."
Flores was one of many students who was a part of the audience in the auditorium.
Metz wrote a book about his story and gave Ms. Susan Eastin a signed copy for the West Library. It will be available for check out soon.