Students participate in West's first true science fair in school history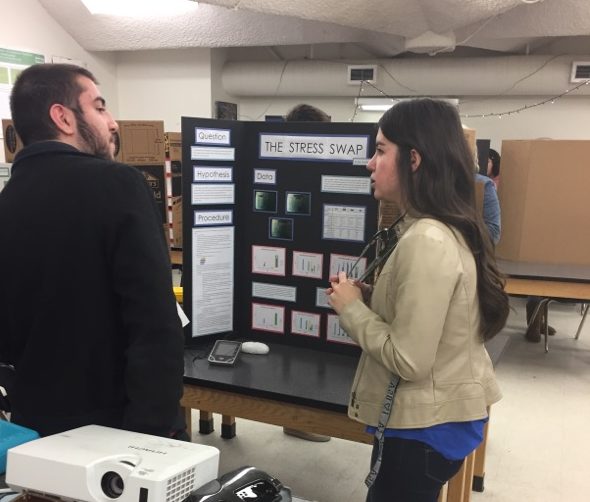 Hang on for a minute...we're trying to find some more stories you might like.
On Thursday, Greeley West's higher-level science classes had their first true science fair in the history of the school.  AP/IB Chemistry, IB Biology, IB Biology HL, AP Physics 2, and IB Physics students each created and ran their own trials on a science project which then they presented a board in the science fair. The two main rules the students had to follow were, making it a higher level project, and making it based off their class topic.
Out of all the classes, there were supposed to be around 44 kids that all had created a board and then present them in front of a judge. The judges were, Ms. Cynthia Stump, Ms. Cynthia Miller-Hughes, Mr. Zach Armstrong, Mr. Ryan Knoblock, Ms. Marie Beach, and Ms. Amy Zulauf. The judges would walk to each board, the student would present and then the judge would ask questions.  When all of it was over, the students got a piece of paper and voted on their favorite projects.
The award, dubbed "Student Choice Awards" went to, Katie Gorsline with "Stress Swap," Collin Mckee with "Terminal Velocity," Lupita Nabor with "Aloe Vera" and Autumn Truitt with "Wait, That's Not Cottage Cheese?"
After the awards were given, the judges gave recommendations to 19 of the students to advance to the Long's Peak Science and Engineering Fair. The students were, William Wingfield, Meagan Arscot, Collin Mckee, Mariah Serna, Katie Gorsline, Omega Martinez, Melissa Enriquez, Andrea Grajeda, Jasmine Demeyer, Michelle Lopez, Nash Modreza, Lupita Nabor, Jarod Clark, Ezequiel Quinones, Autumn Truitt, Ethan Shepard, Elise Johnson, Fatima Alshilwah, and Conor Citrino.
Katie Gorsline who placed 1st in Regionals and 2nd in Physics in state last year, who again is moving on said, "I'm very excited to go because I am competing in the field I want to pursue in college. I did my project based on biomedical engineering and I'm excited about it. It will also be a cool and fun experience to compete against a wider range of students and regionals."