Months later, state championship team reflects on journey to greatness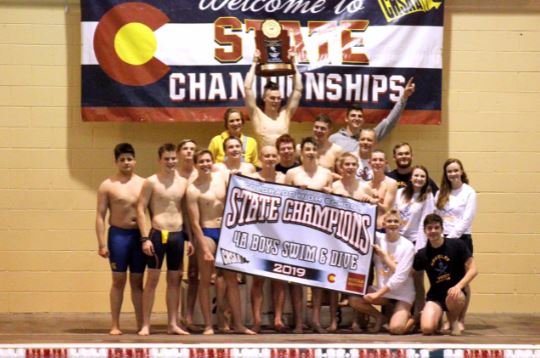 At the end of the 2018-2019 school year, the Greeley West boys swimming team traveled to the State finals hoping to bring home a title, and with spirits high and outlooks positive they pulled off the  impressive win over numerous Colorado programs.
It was West's first state win after a long history of falling just short as the runner-up.  Even months later,  they're holding their heads high in honor of their school and community. "It's a big thing for Greeley West; it's such a big thing for Greeley. It's a big thing for these boys," Coach Colin Shaha said.
Greeley West finished with 323 points, just barely scraping by Discovery Canyon who finished with 307 points. Sophomore Cade Branum said, "In the beginning it didn't look like we were going to win, but at  the start of finals one of the top-seeded teams got disqualified.  From then on, we knew we were going to win."
The season had its downsides along the way.  They didn't perform well at conference and there were the regular aches and pains of a grueling season, but the biggest difficult of all was when the boys' coach was hospitalized near the end of the season.
Shaha experienced a frightful heart attack, sending shock waves of worry throughout the team and families.  Although the coach had thought it was only heart burn, he soon found out the news after the doctor visit. Branum said, "At first I didn't know what was going on, but when I found out I was so worried and hoping he was ok."
This event didn't hold the West swimmers back though, as they would always say "for Shaha"after their cheer at the beginning of each meet. Even though Shaha wasn't there to experience some of the meets,  every swimmer was going to make him proud, eventually repaying him with a state win.
Shaha said, "The heart attack was just a weird thing. I was kind of embarrassed because I felt like it took the attention away from what the swimmers were doing."
The swimmers didn't feel this way, they took it as a motivational push to "do it for Shaha."  Overall, the team felt they did their best during the season.  From a coach's perspective, Shaha stated, "Even the  conference meet that we lost, the swimmers were still dropping time and doing things they never thought they would do… Overall, we had an amazing year, one of the best in Greeley West's history."