There's no place like 'home' for returning English teacher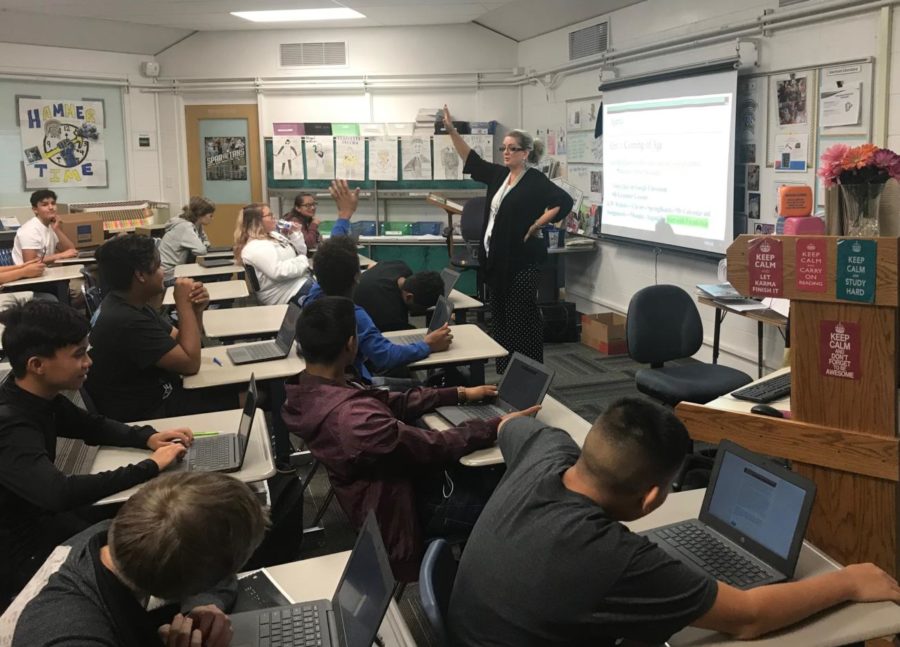 After leaving for what she thought was greener pastures, one of Greeley West's "new" teachers has returned to her home. 
Ms. Amy Tuttle, who had spent most of her teaching career at Greeley West, left in 2012 to pursue a career in administration.  After time at both Northridge High School and the District offices, Tuttle has returned to her English teaching roots. Tuttle also has coordinated gifted programs for five years, including working with students from kindergarten to 12th grade.
Tuttle came back into teaching to be closer to the real action of education:  kids. "I love teaching kids, it's home for me," Tuttle said.  
Tuttle also stated both her and her husband (Wes is the Assistant Superintendent for Elementary and K-8 Leadership for the school district) wanted to remain in this school district because of their desire to see Greeley schools find success.  "As a couple, we always look at how we give back to our district and our community and because we've lived in Greeley all of our lives, we want to give back to this community rather than somewhere else."  
When she back to West for this tour of duty, Tuttle volunteered to work with freshmen and watch them grow through the years.  This means she will be teaching English 9 for a large part of her day.  
If teaching freshmen doesn't kill her, Tuttle hopes to finish her career at Greeley West.  "I'm hoping to teach for another 10 years, and hoping to end my career at West," Tuttle said.  "I love it here; it's my home." 
In keeping with the "home" spirit, the Tuttles have lived in Greeley their whole lives and have had children who attended and graduated from Greeley West.
About the Contributor
Jorge Vazquez, Staff Writer
Jorge Vazquez is a senior at Greeley West and is hoping to join law enforcement after graduation.  He loves his little cousin and finds time to spend...