Sculpture class launches school year with homemade rockets
During third block on Friday, the sculpture class at Greeley West completed a project that was out of this world.  The class made their way to the football field, where they prepared to launch their sculptures into the cool morning air. Awaiting the eager students were two handcrafted launchpads, a water cooler, and an air compressor.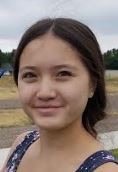 Sophomore Gabriella Lam explained that the goal of their first sculpture project was to craft bottle rockets that did not resemble traditional rockets. 
"We get three launches. If the rockets survive, we get a grade," continued Lam. 
Each student proceeded to launch their rockets three times, with varying results. The larger and lighter the bottle was, the higher it launched. If the rocket caught air each time and was still intact afterwards, the students could get a grade. Sculpture teacher Ms. Dawn Feinberg explained that in order to get an A, the rockets had to look unique and have "survivability." 
Feinberg wanted her sculpture class to have a unique first project before getting into the bigger projects with more expensive supplies, as well as understand that not every sculpture has to just sit and look pretty. 
"Usually you do these types of projects in elementary and middle school, not high school," pointed out Feinberg. 
The year kicked off with an unconventional start for the students, with a hands-on assignment that incorporated both science and the diverse art of sculpture.