Five FFA members qualify to compete at national convention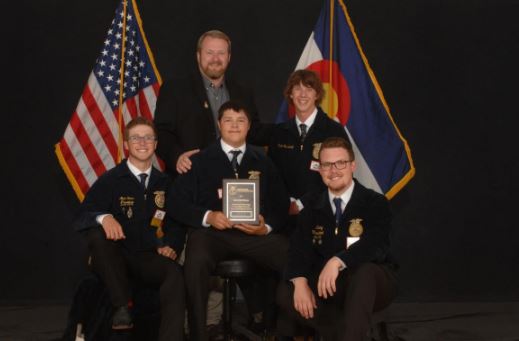 Greeley West's FFA program was recently recognized for their work as a chapter. Select members will compete at the National FFA Convention and Expo from October 30 to November 2 in Indianapolis. 
Among those competing as a team in the Agricultural Technology and Mechanical Systems category are students Mitch Bainter, Bryce Ewing, Ethan Turnbeaugh, and Trent Doudna, with Mr. Clint Gould as their team coach, under the leadership of chapter advisors Mr. Kelly Longacre and Ms. Samantha Pierce.  
Senior Katheryn Broderius, competing individually, is a national finalist in the Food Products and Processing category. 
Both FFA categories are present at the National FFA Agriscience Fair, in which the Indianapolis bound students will be vying for top spots. 
"We put a lot of days in after school studying for the competition," said senior Turnbeaugh. 
According to Turnbeaugh, preparation for the competition consisted of various welding projects, taking engine measurements, pack assemblies, and a 200-word test. 
Turnbeaugh's teammate Doudna explained that prior to the upcoming nationals, the team placed in the Top 20 for two competitions and placed first at state. 
"Kelly's a really good teacher. He cares about us and makes sure we're as well-prepared as we can be for each competition," remarked Doudna.  
Doudna stated that nationals will include team projects that incorporate welding and irrigation construction, and that electricity will be a big component. To conclude the competition, the team is required to write a report that educates others on how to duplicate the team's projects.