Booster Club hosts holiday craft fair at West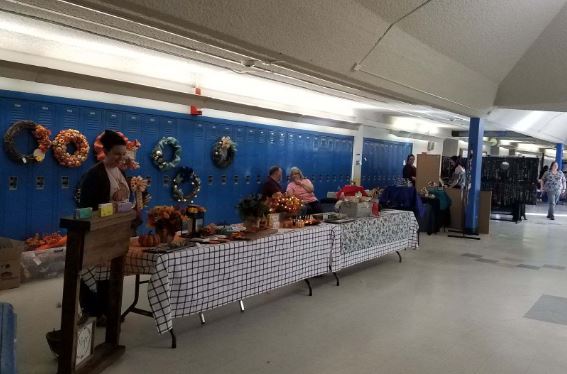 With the Holidays right around the corner, the Greeley West Craft Fair had the perfect place for you to get your shopping done. 
On Saturday, November 9  from 9 a.m to 3 p.m., the Greeley West Booster Club hosted its second annual holiday craft fair. Local businesses and artists, school clubs, and West families and teachers sold  a vast array of unique items. There was something for everyone with everything from handcrafted jewelry, clothing, home and holiday decor, bath products, and  candles, to homemade baked goods, tea and coffee.
"I was able to purchase personalized gifts for many family members last year as well as stocking stuffers and gifts for coworkers.  With the variety of products offered, you're bound to find something not only as a gift, but for yourself as well," shared Ms. Lynda Whyrick, one of the fair's coordinators. 
Along with shopping, people were able to hear West's student musicians perform throughout the day. Lunch was found in the concessions area, which included breakfast burritos, pulled pork sandwiches, and a variety of snacks and drinks.
The fair was spread through the lobby, the commons, and the 100 and 700 halls. In addition to the Saturda event. there was  a "Sneak Preview Sale" for staff and students and their families and friends from 5:30 to 6:30 p.m. on Friday night. 
Fair coordinator Barbara Broderius said, "It is a fun and unique way to show your support to Greeley West and local artisans and crafters and home based businesses." 
Broderius and Whyrick both wanted to thank the community and the Greeley West volunteers who made the event possible. The event grew from the year prior and the Booster Club hopes to add even more vendors to next year's edition.  
About the Contributor
Kinsley Mahan, Staff Writer
Kinsley Mahan is a senior at West. She enjoys spending time with her family, exploring the great outdoors, going to concerts, taking pictures, enthusing...