West students advocate for sportsmanship at local elementary school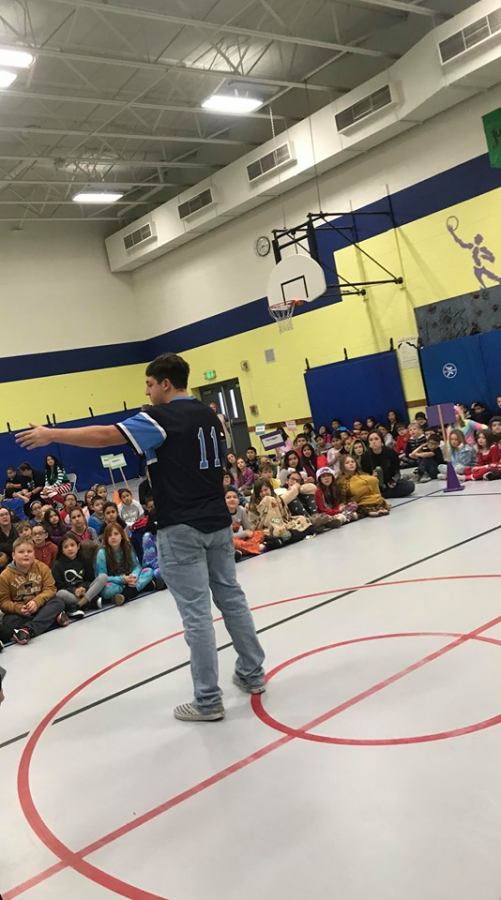 Last Friday, Greeley West student athletes volunteered to speak to students at Monfort Elementary. They visited the school in the morning during a school wide assembly to talk about the programs that they are in, their plans after high school and how they prioritize good sportsmanship when competing in their sport of choice. 
The Greeley West cheer team opened the assembly with a traditional spirit chant. During the chant they put together one stunt group and threw Junior Lisette Jacquez in the air. This act sure sent all the kids into amazement as the gym filled with oohs and ahs. 
Next, the assistant principal introduced some of Greeley West's AVID student/athletes to speak for the kids. About 15 students volunteered to visit the school to bestow their wisdom about the high school experience among the youth. Senior Daniel Bellareza said to the kids, "It's super important that you are paying attention to your teachers and learning in school, because all the things you are learning now are super important to know so you can be successful in the future."
The student athletes discussed the importance of doing well in school, sportsmanship and playing fair to the kids. They all made sure to give the kids a spark of motivation in their speech to end the school year strong and always dream big. "They are the future of this community," said senior AVID student athlete Aaron Rojas. "I took this opportunity as one where I could make in impact on the future generations just from sharing my advice and experiences with them."
Senior Lexi Baldwin said, "Performing in front of all those little kids honestly made my whole week. When I was a little girl, I loved watching the cheerleaders come and perform at my school. And now that I've grown up, the roles have switched, and seeing the awe in all the girl's faces when we perform fills my heart."
About the Contributor
Jayden Phipps, Staff Writer
Jayden Phipps is a senior at Greeley West High School. She plays volleyball, is an honor roll student, and is involved in AVID. She enjoys spending her...