Teachers share passions with students during homeroom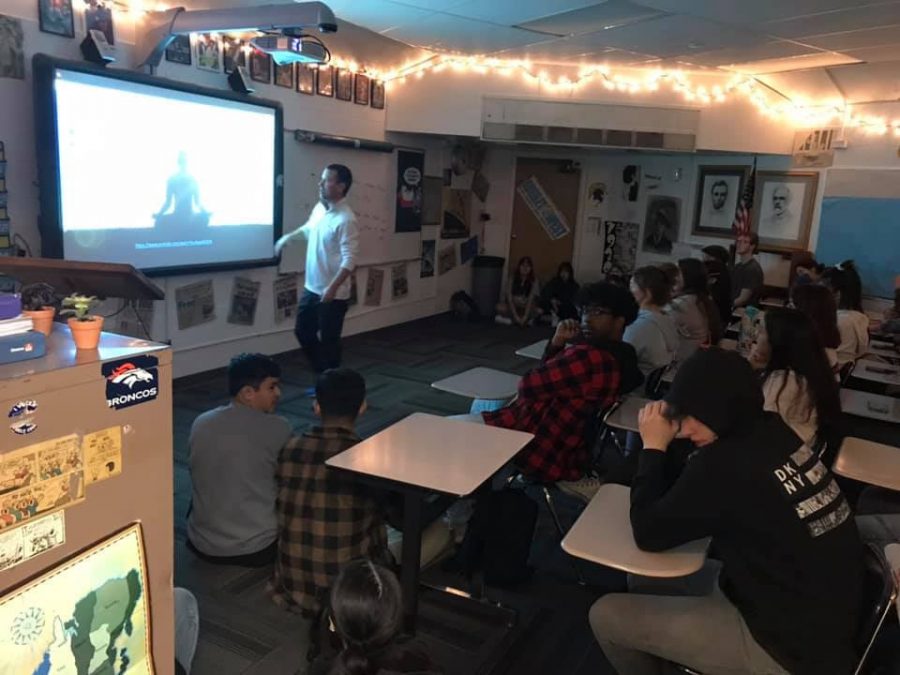 Homeroom was a little bit more fun than usual last week – at least if you attended.
At the start of the second semester each year, each teacher plans a presentation to show the students one of their hobbies. It's called the Passion Project, and it's been done the last few years so that teachers can connect with their classes by sharing one of the things they enjoy in their lives outside of school. 
Each teacher had their students watching videos, playing games, making crafts and getting them involved in the things that the teacher loves to do. Some teachers made their projects based on the subject they teach normally in their classes. Physics teacher Mr. Zach Armstrong made his about lightning, and Band Director Mr. Chet Arthur did the history of band instruments.
Other teachers dug more into their personal life and the extracurriculars they participate in. Math teacher Mr. Peter Jakus played his guitar for his students and social studies teacher Mr. Don Wagner helped his students relax with his meditation presentation. 
Other teachers saw the opportunity to share a part of themselves from a different perspective and decided to use the presentation time for a different purpose. Ms. Lea Sanford had all the kids who attended her passion project make homemade cards for sick kids in hospitals. 
Mr. Stephen Paulson, with his many hobbies, decided to make his students play a stock market simulation game with his homeroom class. The students had to buy and sell stocks and compete to make the most profit from the money they invested into stock market shares. The winner got a prize.
Overall, the students enjoyed the passion projects and getting an opportunity to get to know their teachers more. "I really liked it because I think it's cool that the teachers have an opportunity to express themselves and their interests to their students. It helps me realize that our teachers are more than just teachers; they're people too and they have a whole life outside of their work environment," said senior Natalie Riviera.
Many students chose not to attend the presentations on Thursday and were seen walking off campus for the activities.  Those students certainly missed out on one of the better homeroom activities of the year.
About the Contributor
Jayden Phipps, Staff Writer
Jayden Phipps is a senior at Greeley West High School. She plays volleyball, is an honor roll student, and is involved in AVID. She enjoys spending her...