'Matilda' cast features young students from around district
This spring's musical will feature multiple students not yet in high school who were cast to play different parts in Greeley West's production of Matilda The Musical. Greeley West theater teacher and director, Ms. Peggy Freemole, sought out students in both elementary and middle school to cast in an effort to enhance both the accuracy of the storyline and the theater careers of these young students.
In Freemole's career at West, she has put on countless productions and several of those have included younger students. Previous shows, such as The Sound of Music, The Addams Family, and last spring's Shrek The Musical all had students outside of high school.
She is familiar with reaching out to schools and giving their students an opportunity to get involved in theater from a young age.
"The kids have come from Fred Tjardes School of Innovation, some from Chappelow, some from Frontier, some from University. We really had kids from a large range of District 6 schools." Freemole said.
Her offer didn't stand in Greeley alone, though. "We also have a few girls outside of Greeley. Their dad used to be the choir teacher here," Freemole said.  She casted them, first filling the named cast list, and then more are included in additional ensembles.
Although it would seem younger students wouldn't be at the high school level of performing yet, Freemole observed these young performers and explained, "There were thirty little kids who auditioned. They were all ridiculously amazing. We were blown away by the talent."
Jacob Evans, a junior at Greeley West, has been on the other end of younger student casting. In 2016, Evans played Pugsley in West's production of The Addams Family, while only in 7th grade at the time. From his perspective, the opportunity to participate in the theater program here at West at a young age was a positive experience and still proves to benefit him today.
Evans has been cast as many leads in shows since attending West after his debut as Pugsley. He feels that his experience from an early age has helped him in the shows now that he attends school here. He explained, "I definitely had a foot ahead because I knew [Freemole's] expectations, the amount of work ethic, scheduling, and navigating my responsibilities."
"Immediately, I was just swarmed with love and excitement and automatically just felt like part of the group," Evans explained, reflecting on his experience as a younger actor. "It definitely solidified my choice of coming here…I got to see the professionalism of the shows and you really don't get an experience like we do at West."
Freemole said, "My goal for all these kids is that wherever they go to high school, that they just keep the arts and theatre in their lives."
About the Writer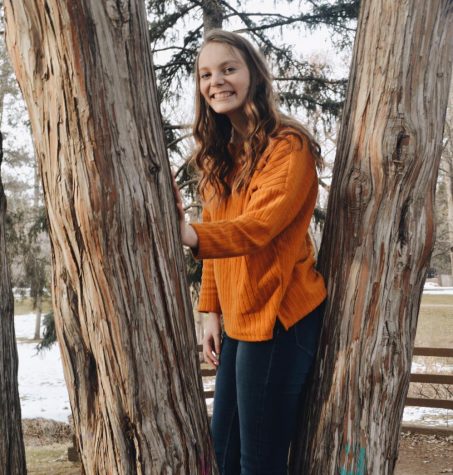 Navy Swapp, Staff Writer
Navy Swapp is a senior at Greeley West High School. She is involved in Student Council and Key Club. Her favorite things to do include spending time with...