Timothy Alexander returns to West 'family,' delivers inspirational speech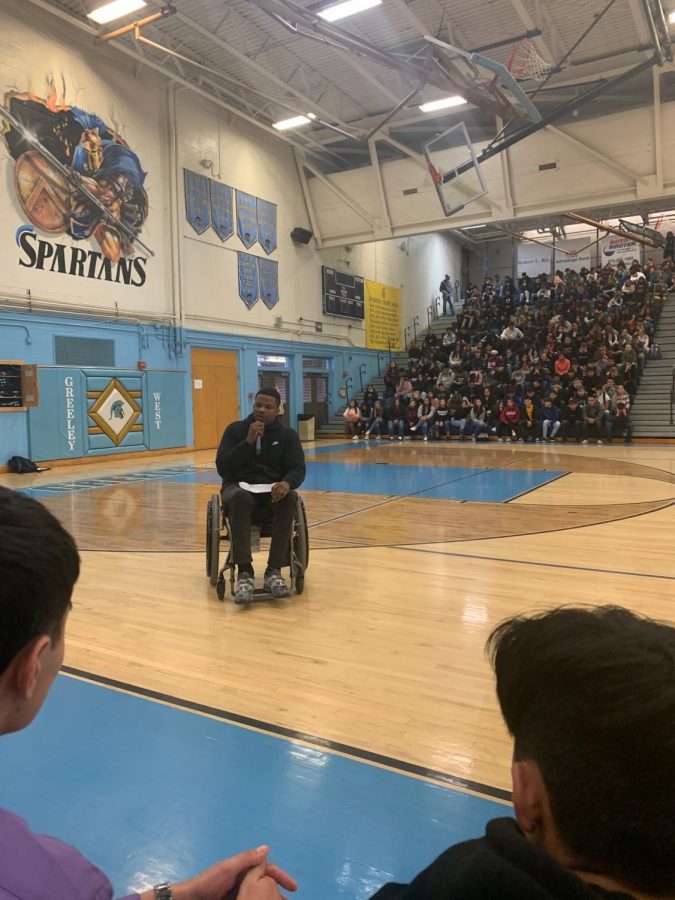 Timothy Alexander travels the country to deliver motivational speeches to the future generation of students. His speeches are filled with messages influencing kids to maintain grit through adversity and pushing themselves to success through hard work and dedication.
Alexander's passion for public speaking and engaging students through his words of wisdom root from his tragic car accident he experienced in 2006. Before the accident, he was a star athlete and student and had big plans for his future. This disaster left him paralyzed from the neck down.
As a result of this, he has forced to find his purpose in life as he had to adapt to a new lifestyle and mindset after this event. From that point onward, Alexander has traveled the United States and dedicated his life to influencing people around the world to live their best life through his words of wisdom and motivation.
During his speech, he discussed the importance of maintaining a good mindset through the highs and lows of life. He gave examples through his own experiences of how you can take a situation and make two different outcomes out of it just by simply having a more optimistic way of approaching things. He stressed the significance of keeping your mind and thoughts positive because that simple change in how you think can be the difference between success and failure.
Although the whole school attended the assembly, Alexander's words had a different impact to student athletes that had the ability to empathize with him through their mutual love for sports. Junior Diego Silva said, "As an athlete I had to experience an injury of my own in season and hearing his experience through adversity only inspired me to have a optimistic mindset through things and that anything is possible through hard work. I learned that it's all about the positivity no matter what things you go through; a positive mindset and a dream is everything needed to make it through a time of hardship."
About the Writer
Jayden Phipps, Staff Writer
Jayden Phipps is a senior at Greeley West High School. She plays volleyball, is an honor roll student, and is involved in AVID. She enjoys spending her...