West students embrace parent's passion for future careers
During our lives, we have many milestones. We learn to ride our bike, graduate kindergarten, start high school, and go to college. Throughout this time, we have opportunities to discover what we want to do the rest of our lives. Some kids at Greeley West chose not to take that path.  They have already found what they want to do, and it happens to be just what their parents are doing.
The parents are passing the torch of their passion to their children, and in some cases that's exactly what the child wants to do with his life. This doesn't continue forever, as studies show that only 30% of all family businesses make it to the second generation and only 13% to the third generation. With those statistics, it's hard to find common interests in careers between parents and their children.  Junior Stephon Stednitz shared the same future goals with his father, welding.
"Me and my dad have had a strong connection, and I guess it made me want to try out his field of work," said Stednitz. Beyond his strong connection with his father, he has found a passion for welding and his father is educating him in the career.
Few children want to do exactly what their father does. Most  have their own set of dreams and want to stray away from what their parents do.  However, occasionally dreams do line up.
Currently, Stednitz is doing an apprenticeship with his father, and every day he is loving the job even more. "When I was a freshman in high school, my father wanted me to pick up the tools and try it out for myself, and I loved it.  Now, I can't put those tools down," Stednitz said.
Those tools now play a very important part in Stednitz's future.  He plans to attend Red Rocks Community College and learn the basic skills needed for the job. Afterwards he will go straight into his father's welding business. Luckily his parents are supporting him all the way.
"My parents have supported me endlessly throughout my life.  They have seen my dreams and encouraged me to follow them. They want me to have fun in what I do," said Stednitz.
Another student that plans to follow her father's footsteps is Ashley Cullen. Her father works with Hensel Phelps as the director of services and marketing, and this has appealed to Cullen as something she wants to do for her future.
"My dad is able to travel the world, see different cultures, and live a beautiful life.  All I want to do is incorporate that into my life," Cullen said. Not only does Cullen want to follow her dad, but make her life enjoyable, and that comes along with the job description.
Next year Cullen hopes to enter the field of business, taking classes involving her dad's profession. From there she will decide what college to attend and graduate with enough academic excellence to pursue her dreams at Hensel Phelps.
It wasn't always this way though. "When I was a kid and beyond, I wanted to be a surgeon. As time went on, I felt it was less attainable, and statistically very hard, so I found interest in what my dad did every day, being part of a big corporation yet having fun while on the job," said Cullen.
To get the ball rolling and to make sure this is what she wants to pursue, she will start an internship with her dads' company. Until then, she will trust her instincts. As with Stednitz, Cullen's parents are also supporting her every step of the way.
"My parents are pretty involved in my life," Cullen said. "They always help me experiment with what I want to do in life, and I am getting fully immersed in my dad's field of work. I always go to his office and experience firsthand what I'm getting myself into."
Both Stednitz and Cullen found joy in what their parents did and decided to give it a try. "It's hard to find your passion in high school, but if you're passionate about anything in your life, pursue it and you never know what you'll find, and just maybe it will be what your parents pursued," Cullen said.
About the Writer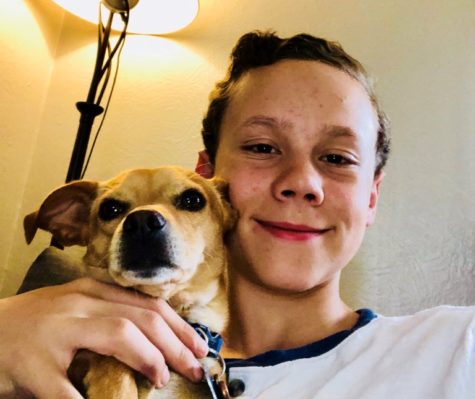 Nathaniel Rudolph, Staff Writer
Nathaniel Rudolph is a sophomore at Greeley West High School. He plays the tenor saxophone in the marching band and swims with the 5A State Champions in...