Projects take discovery outside of science field
While in a normal conversation, clay glazes and stage lights may have no connection or even bring about the idea of science. However, both topics were the bases of stellar science fair projects that have been chosen to compete next week at the regional Science and Engineer Fair. 
Since September students taking IB Biology, AP/ IB Chemistry and AP Physics 2 have spent immense amounts of time and work on science fair projects. The science fair projects serve as a double-edged sword:  Not only do all students get to have some fun and compete at the school level, the projects are also used as the IB students' internal assessments for science.
"The project is meant for kids to fall in love with science. Generally, they end up having more questions than answers in the end about their projects and it's that deep thinking combined with those answers that help them write a much better IA in the end," explained chemistry teacher, Ms. Cyndi Stump.
For junior Ashlyn Estal, the project has combined her love of art with science. "I used clay glazes and explored what chemicals make them bond to the clay when they are fired in the kiln. I found that it is the molecular forces that allowed them to do so then I had to figure out exactly what those forces were," Estal elaborated. 
The idea of competition also gave her the push she needed to make the project elaborately in depth. "It made me realize that I needed to get things done," Estal said.  "I didn't want to slack off on the project either, I wanted it to be top tier since I get to compete with it in addition to the IA."
Estal was not the only student to integrate her passion for another subject with science. Junior Zach Headley integrated his love of theater – particularly stage lights – with physics. Headley explained that, "I'm using background in theatrical lighting design to prove several different laws of physics."
Based on the projects presented at West's own science fair in early January, ten projects, including Headley's and Estal's, have been selected to compete next week at Island Grove Park. Competitors will consist of science students from around the Front Range.  There, a variety of judges will make selections on whether or not any of the students from West will have the opportunity to compete in April with the best projects from all over the state at Colorado State University.
About the Contributor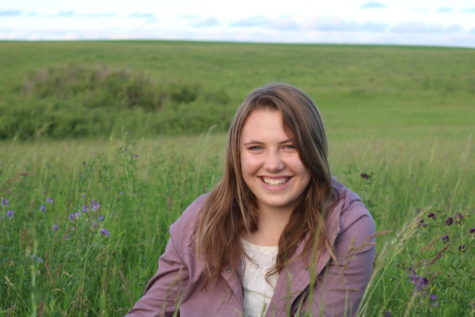 Kathryn Broderius, Managing Editor
Kathryn Broderius is a senior at Greeley West High School. She enjoys being involved in school
activities and clubs, including FCA, FFA, NHS and STUCO....