IB student shares pathway to success full of movement, challenges
Many individuals and families take the task of journeying across the world in order to better themselves and family members; whether it's escaping violence, cultural resources, job opportunities, or even environmental factors everyone wants a better life apart from their suffering. All these things are a factor, but for Greeley West student Maryan Hassan, there was a different reason her family immigrated to America.
During the year 2009, Maryan's sister, Nimo, fell deathly ill. Although the doctors in Africa were able to tend to her needs, in order to save Nimo's life it required them to travel to America. "She was very sick," said Maryan. "She was diagnosed with a heart disease and the doctors in Africa told us she needed to come to America for treatment."
Because of this complication, Maryan's family including Nimo, Farhiyo Aden (mother), Abdi (brother), Ismahan (sister), and Fartun (sister) were forced to venture into the unknown. Maryan's father was the only one missing from the journey. "We had to leave my father behind, though due to some immigration complications," said Maryan.
Immigration can be a complicated process in America as so many people travel to the states to fulfill the American dream. American laws regulate and prevent certain people from entering the country, sometimes separating families such as Maryan's father.
After the family completed its journey to America, their adventure was far from over. "When we first landed, we landed in New York City but moved after a week," said Maryan. The family moved to Utah, settling down for many years. But the new experiences made an impact on Maryan's mother.
"My mother entered into a new country where she knew nothing about, and she was a single mother parenting us. She didn't have any siblings in Utah so we really couldn't ask for much guidance," said Maryan. "She had to learn many things such as driving and grocery shopping at certain markets. Back home everything is very close, so you didn't need to drive."
Apart from her family, Maryan's journey looked very different. She had different emotions and insecurities about coming to a new country. "When I first came to the United States, I was five years old, I started in kindergarten. I was frightened to start school because I was afraid I would be judged because I didn't speak English," Maryan said.
Not only did Maryan feel insecure about her language, but the ethnic diversity as well. "I Thought I wouldn't fit in. I've never been around such a diverse community," Maryan said. "But eventually, I learned the language and I made many friends from different ethnicities."
During this adjustment to a new social and ethnic atmosphere, the rest of Maryan's family decided to move from their home in Africa to the foreign lands of America. With her distant family in the USA, they needed to find a place to congregate as a family. "A couple of years later, my family from back home also immigrated to the United States. They landed in Colorado. My family decided it was best if we were near each other, so we ended up moving to Colorado," Maryan said.
Not only was this good news for Maryan, since she could see the rest of her family again, but also bad news due to the fact she would be detached from Utah. "I was upset that we had to move," Maryan said, "because I did not want to leave my friends, my school, and my neighborhood. Somehow it felt like Utah was my second home and I was too attached to just let it go."
A few years went by and the family adjusted and built a beautiful life for themselves. Maryan's mother attained a job and Maryan went through her school years. To make this all happen though, one person nurtured the hope in her children and the determination in herself.
"My mom has played the role of both parents, even though I wish my dad could be here with us my mom is doing such a great job," Maryan said. "My parents believe that moving here was a better opportunity and a better future for us, and I couldn't agree more."
Currently, Maryan is attending Greeley West High School, enrolled in the IB program, hoping to walk across the stage with the IB diploma in hand. With her high school years planned, she looks into the future to decide what she wants to do for the rest of her life. "One day I wish to go to college and hopefully major in law. I want to be able to sit in an immigration office one day and help others, just like my father," Maryan said.
About the Writer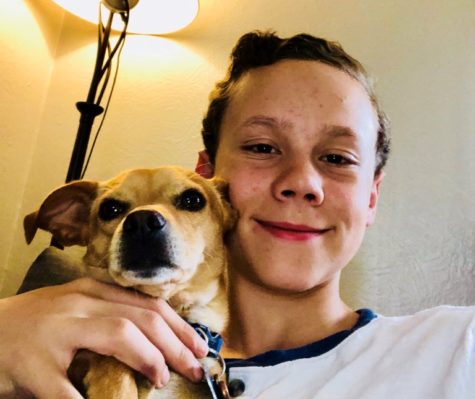 Nathaniel Rudolph, Managing Editor
Nathaniel Rudolph is a junior at Greeley West High School. He plays the tenor saxophone in the marching band and swims with the defending 5A State Champions...