Spartans find silver linings in online learning
With the spread of COVID-19 and the urgency for individuals to remain socially isolated and stay inside, there have been some bumps in the road for schooling around the globe. On Tuesday, Greeley West students began their journey with remote learning, where they can continue their classes at home online. 
In many Spartans' eyes, this situation has proved to be a challenging one. Students expressed the bitter feelings of missing the people they are typically around every day, but found solace in online chats within Schoology classrooms. Junior Taylor Vannest explained, "I'm glad we are able to talk to people online, but I do miss my friends and teachers and being in an environment where you're actually around people."
Being limited to only technology can lead to prohibitive roadblocks on its own. Many difficulties can happen, which can be overwhelming when things don't go right and there's no other option. It is definitely limiting, and as the school year continues, all are hoping that things run smoothly to where students can access their work as conveniently as possible.
Although difficulties can occur, the technology available at everyone's fingertips allows students the ability to stay caught up on their work, which cancels out the need to finish the school year in the summer. It is all a matter of weighing out the good and the bad, and most Spartans have formed their own opinion on the situation.
These challenges have also given Spartans an opportunity to seek out the silver lining and gain some perspective. With the transition from public to online school, students don't need to worry about having a mandatory place to be surrounded by hundreds of people every day who may be jeopardizing their health.
As students and teachers come together to learn more on how to go about this unique opportunity, relationships are being strengthened and Spartan history is being made. Social studies teacher Mr. Don Wagner claimed, "I'm excited to try something completely new and untested. There is real learning and value in being way out of your comfort zone. It's cool to see everyone work together. It's an unbelievable challenge we all face here, but I know we are up for it. That's what Spartans do!"
One big bummer students and staff are having a problem working around are some of the "life experiences" that come with high school, especially for seniors.  In their last semester of school where once-in-a-lifetime events occur, students wonder what the future holds. "I know there are bigger things going on, but I am pretty bummed out about having to miss Prom, most of our senior tennis season and potentially, our graduation," senior Crystal Sanchez said. "It's really what makes up our senior year, and many have put so much dedication into planning these things."
About the Writer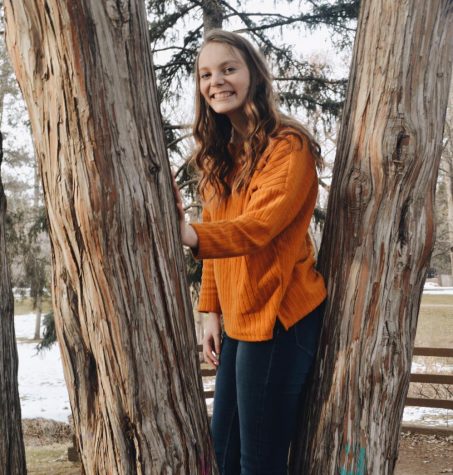 Navy Swapp, Staff Writer
Navy Swapp is a senior at Greeley West High School. She is involved in Student Council and Key Club. Her favorite things to do include spending time with...