Administrators, district leaders devoted summer to assure in-person start to school year
It was March of 2020, and coronavirus was spreading throughout the United States. This meant many schools had to prepare for the worst when it arrived. For District 6, they were ahead of the problem, immediately constructing the COVID-19 task force. Eventually, when the schools had to close, these administrators, teachers, principals, and health officials were only at the beginning of what would become an entire summers' worth of preparation. However, as students returned to school, these administrators did not receive enough acknowledgment for accomplishing an undertaking that seemed impossible.
Since March, these administrators have worked persistently to give kids a quality education and bring kids back for in-person learning in the fall. In March, when students had to leave school for the remainder of the 2019-2020 school year, administrators and others were unraveling many complicated problems. During school, many students from low-income families were obtaining valuable meals that would aid their education and overall health. With kids not attending school, these students were unable to collect these meals. This meant the COVID-19 task force need to formulate new concepts to bring students this essential resource.
This task force was able to complete this project, along with numerous others, such as bringing hotspots to those without internet, handing out devices for online learning, and finally getting kids back to school in the fall. However, these tasks wouldn't have been accomplished without many genuinely brilliant minds.
District 6 Superintendent Dr. Deirdre Pilch, was leading this task force that cooperated with health officials and other departments to achieve these goals. For Pilch, this was a truly emotional time for her, as she couldn't imagine working with any other co-workers.
"As superintendent, my job has been to lead and keep this team together, throughout these months and months of preparation," Pilch said, "These people I work with are truly amazing, and I am so grateful to have these faculty members on my team. Not only have they accomplished so much, but we have been able to open when other districts have not."
As you have noticed, this has been an emotional roller coaster for many District 6 faculty members. Ms. Amy Zulauf, one of the assistant principals for Greeley West , expressed the level of difficulty this summer was emotionally. "There is so much internal conflict: we want to give students quality education, and now also keep them safe, but this also took a toll on me personally. When I was supposed to be with my family, instead I was on Zoom calls, and I even at times was lying on my floor, just to clear my head and think. Also, no staff member truly had a summer, but in the end it was all worth it."
Returning to school has impacted the teachers mentally, something school board member Mr. John Haefeli knows from his past experience as a teacher.   Haefeli said being a teacher back then was hard, as his students became close to him. However, now he worries about their health even more.
"I want my past students, my children, and every student to outlive me, and every day I worry about their health. I had six or seven students pass away when I was teaching, and they weren't even my students. However, it felt like someone ripped my heart out and stomped on it," Haefeli said.
For Haefeli, keeping students safe is personal.  "I was a part of the organization called Caring for the Watershed at the Poudre Learning Center. I met a nice young man that was a junior at Central High School. Both of his parents were laid off due to COVID, and he worked at King Soopers to supply income for his family. Later I learned, as a 17-year-old, he got COVID-19 and ended up in the ICU," Haefeli said.
Pilch had some final words that would define the values of each administrator. "One of my friends contacted me and said 'help me friend, my daughter is on her knees crying, because she knows her school won't go back in person, and she is a senior' and I started crying because when I think about all the kids who weren't going to be able to experience Prom and all those end of year activities seniors and every student experiences, it struck a nerve. Pilch said. "That is why I devoted my summer to get kids back in school, so they can get the fullness of education."
About the Contributor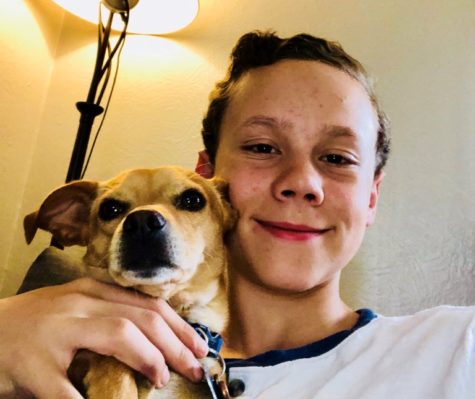 Nathaniel Rudolph, Managing Editor
Nathaniel Rudolph is a junior at Greeley West High School. He plays the tenor saxophone in the marching band and swims with the defending 5A State Champions...