West balloon artist discovers hobby, new passion during coronavirus isolation
Just like the rest of the students at Greeley West High School, senior Nathaniel Vigil was struggling to keep himself occupied this summer due to coronavirus. But he managed to fill his time up with a new hobby.  
Vigil was on his computer one day this summer when he came across a video of a man making balloon animals. He thought that it looked fun and decided to give it a try.
Obviously, Vigil was not perfect at first. It took a lot of practice, but eventually he got the hang of it and could make some animals without having to look at the videos anymore. 
As the coronavirus pandemic continued, Vigil branched out from animals and began making balloon versions of many different things. Greeley West paraprofessional Ms. Cambrie Martinez said that she had asked him to make her a pumpkin to get into the fall spirit. He didn't know how to in the moment, so that night he went home, watched a video, and came back to school the next day with a balloon pumpkin.
A similar situation happened with Mr. Robert Perez, another West para, when he asked Vigil for a shark. He could not find a video on a shark, so he came back the next day with a dolphin instead. Perez said he still loved it. 
The amount of time it takes Vigil to create a balloon animal depends on the project.  Vigil explained, "Sometimes it's hard and sometimes it's easy." 
Vigil will make balloon projects for anybody who asks for one and sometimes he will surprise his favorite people with his newest creation.  Vigil's favorite thing to bring to balloon life is a monkey on a tree with bananas.
Vigil is excited to keep practicing and getting better at making different objects as the school year goes on.  While he may have discovered this passion because of COVID, Vigil has plenty of other hobbies now that he is back in school.  Vigil is a member of both the Unified basketball and bowling teams and is also a member of Student Council.  
About the Writer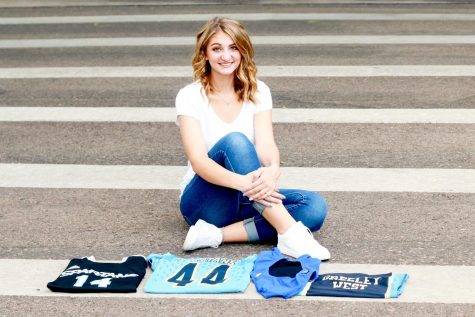 Jacey Piacenza, Staff Writer
Jacey is a senior at Greeley West. She loves sports and is involved in football, soccer, diving, and track making her the only four sport athlete at the...