Camera debate continues for Greeley West students
At the beginning of the 2nd quarter there were changes made to online learning expectations at Greeley West High School.  Those changes will reiterated by the administration team in an email sent to students Tuesday night.  
There were mixed reviews about the new changes during online classes in the hallways.  Before West went remote through Thanksgiving break, AVID junior Gerardo Hernandez argued that cameras were unnecessary for learning to occur and may even lead to an opposite consequence.  "It should be a choice. Students do not feel comfortable with all of their teachers or classmates so having their camera would just add unnecessary stress or discomfort," said Hernandez. 
Junior Jolie Rios thinks that it should be up to the student to turn their cameras on. "Students should be able to turn on their cameras when they feel comfortable and when it is not an invasion of privacy," said Rios.
Teachers also have their own opinion about having their cameras on. Math teacher Mr. Jeremi Redman said that there are different situations that students may not be able to have their cameras on but is also the best way to stay focused in class. "I think one of the best ways to stay focused and engaged is having your camera on," says Redman.
A big issue students refer to is privacy. The U.S. Family Educational Rights and Privacy Act is murky in regards to online education. Greeley West students participated in a Philosophical Chairs debate about the topic during homeroom in the first quarter and privacy came up in nearly all of the conversations.  "Not everyone is comfortable with showing their homes from their camera," said Hernandez.
There could also be distractions at home that students may not be able to have their cameras on all the time. "I also know, from both personal experience and from conversations with students, that when you are working from home, you have a lot more distractions than in the actual classroom," said Redman
About the Writer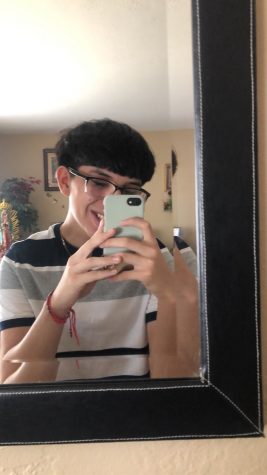 Cesar Villanueva, Staff Writer
Cesar is an AVID junior at Greeley West. He enjoys listening to music and watching movies and TV shows. In his free time he enjoys spending time with his...