Faculty members talk about relationships with animals during remote learning
After a few weeks of getting used to being online, a few teachers have either shown off their furry friends or the pet has introduced themselves by interrupting the class.  Teaching from home as certainly been a benefit to both pet and owner.
Unfortunately for one teacher at West, working from home has brought sadness in regards to his pet.  Science teacher and tennis coach Mr. Ryan pace has been thinking a lot about his dog during these times.  His dog unexpectedly passed  on November 17.
Pace said his relationship with his dog was the best a man could ever ask for. One of his best stories was when he was hiking up a trail called Parry Peak. Pace said that lightning started forming around him and that his legs started cramping up and his dog stayed with him when lighting was near. He also said, "Our animals teach us so much and give us so much love."  
While Pace adjusts to work like away from his pup, other faculty members are adjusting to work life with their animals. English teacher Ms. Karen Winter has a cat named Devon Rex who either ends up on her lap during class or just parades in front of the computer for attention. Another English teacher, Ms. Kim Fisher also has her cat show up during class by jumping onto her keyboard and showing himself off.
Not only do these furry friends interrupt class, but with homework as well. Fisher said, "The biggest way he assists me with my work is by laying on papers that I am trying to grade." 
English teacher Ms. Upshaw, has made her cat a part of lessons.  In fact, she says it loves to audition for the live action of Romeow and Drooliet. She says her cat always talks during online schooling and he loves trying to talk to students coming in during class on zoom.
Upshaw also has a dog named Oliver. She says that Oliver needs him by her side at all times even trying to sit on her lap during class. She also says that during lunch he will often keep his face in her lap. 
About the Writer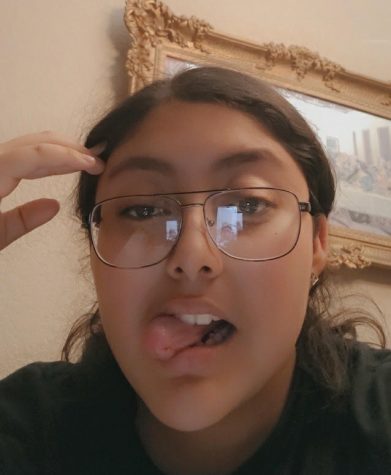 Abby Rivera-Flores, Staff Writer
Abby is a junior at Greeley West. She loves tennis and band. She is also a member of Dream Team and LULAC. Abby also enjoys her time outside of school...