West students explain why they're choosing to wear masks
Masks have been the subject of controversy throughout the United States since March. Some people are not willing to wear them; others are adamant about wearing them. Even local and state governments are feuding over the mask situation. Colorado Govenor Jared Polis made masks a statewide mandate, which was quickly countered by the Weld County Commissioners, saying masks were optional and the mandate would not be enforced. The wearing of masks was even a subject of the 2020 Presidential Election, with Donald Trump not requiring masks or social distancing at rallies. 
Despite the feud between higher-ups in society, most teens are wearing masks to stop the spread of COVID. Senior Brayan Zubia is a teen helping the cause. "I always wear a mask in public. I just want this whole pandemic to be over already. I'm ready for life to go back to normal, and I think we all are. It's not hard to wear a mask in public, and the sooner that people get that the sooner we can live normal lives," said Zubia.
Some teens aren't wearing masks just for their own protection, but the protection of others close to them as well. Often students with grandparents or older loved ones living in their homes wear a mask to protect their well being. Junior Rodney Villegas is one of the students that falls into this category.  "I don't necessarily wear a mask for my own safety, but I see my grandparents a lot, and since they're older they are more likely to get it," Villegas said. "It's just something that I do to make sure that they are safe and that they stay safe. I do it because I love them, and I just want to make sure that they're okay."
District 6 put all students into remote learning as a result of community spread in the Greeley/Evans area.  Students realize by stopping the spread, their lives get to return to a little more normal with in-person learning.
About the Writer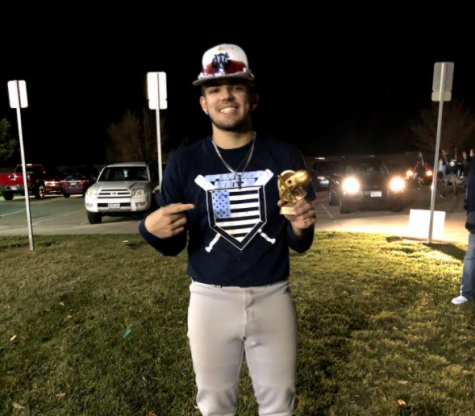 Hunter Redfern, Staff Writer
Hunter is a junior at Greeley West. He plays baseball for the school, and is a big fan of sports. He enjoys working, watching sports, and spending time...