Demolition of aux gym, weight room, wrestling room will show notable construction development
Every student at Greeley West already knows a brand new school is being built behind the current location. For some, this will come a reality when they knock down the aux gym – a process that started last week.  This demolition will take the wrestling room and weight room with it. 
Not many know that the aux gym is named after someone. His name is John Birleffi. He was a long-time teacher and coach at the school. He was named state, regional, and national basketball coach of the year in 1978 and 1981. He also received the Past President's Award from  the Colorado Coaches Association .It was an honor that he was a coach at Greeley West. Principal Mr. Jeff Cranson said that they are still discussing whether West will keep the name when a new aux gym is built in the new building.  
The aux  gym will live in in a a couple of different ways.  According to Cranson, some of the wood in the gym will be used to make cornhole boards or shuffle boards by the wood shop.  Another idea floating around is that that the wood from the gym may be used to desks for the AD and athletic assistant.  Cranson hopes to repurpose much of the wood. 
With no gym, that means students will be crowded in one gym when they return to school in January.  For the next 16 months, all PE classes will be squeezed into the main gym – with a weight room taking the place of even more space.  
Outside of the West, construction crews have already laid concrete for the new school and have turned Greeley West into a construction site. With kids being online it has allowed for the construction of the new school to progress faster.
About the Writer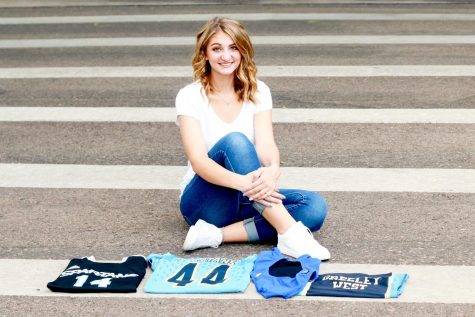 Jacey Piacenza, Staff Writer
Jacey is a senior at Greeley West. She loves sports and is involved in football, soccer, diving, and track making her the only four sport athlete at the...