District 6 moves forward with West Prom plans
As this year quickly approaches its end, District 6 is trying its hardest to plan a good Prom for the upperclassmen to end their school year.  The District is seeking the help of wedding planners to coordinate a Prom in a short amount of time.  In fact, that time is exactly one month away:  May 1.  
Some feel that it is needed for the upperclassmen who have been through this tough year. It is a way for them to end this year with a good memory to look back on, not just the memories of Zoom, masks, and being not together as a school. But, there are still a lot of questions that need to be answered about this upcoming event. 
One of the main questions to be asked is where Prom will be held.  This was answered by Principal Mr. Jeff Cranson when he stated that it was going to be at District 6 Stadium on the soccer field. Cranson said having it outside will make it a safer place for the people who are still worried about Covid outbreaks and being able to social distance. 
A lot of people are tired of hearing about the pandemic, yet right now it impacts Greeley West students even if they don't want it too.  The females that will be attending the dance will not be able to wear high heels. This rule has been made in order to keep the soccer field looking nice, as heels can rip up the turf . Another thing is that there will be no food at the dance. It would be too difficult to regulate and they do not want food to get on the turf at the field. 
Students will also have to stay in pods of ten people.  These will be assigned to students as they show up to the dance, so most likely to whoever they show up with. Like usual, sophomores and freshmen will only be allowed to come if invited by an upperclassmen. As a Covid protocol, there will be no people allowed who are outside of the West community. 
A big difference this year comes with the planning of Prom. In past years, Student  Council worked in conjunction with the junior class to plan and chaperone the dance.  This process usually starts at the beginning of the school year because of how much effort and time go into planning something like this. Obviously they have not done that this year as Prom was not a guarantee. So as it approaches soon the staff at the school is struggling to put it together. They are getting some help from professional wedding planners at the district level.  These planners have decided to  set up a big white tent on the field with white lights underneath and heaters so students can stay warm.
Prom is a very big part of high school that all students should have the pleasure of enjoying. So although there are major changes, students should still feel lucky and appreciative that the school district is working so hard to get this done.  Hopefully, students will end the year on a good note rather than thinking of all the events that have been missed.
About the Writer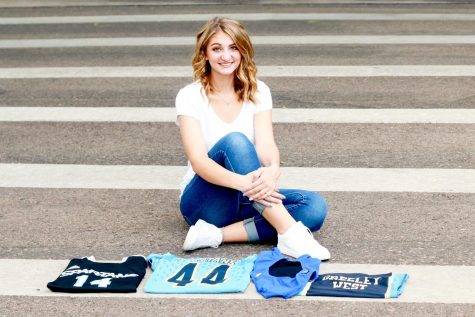 Jacey Piacenza, Staff Writer
Jacey is a senior at Greeley West. She loves sports and is involved in football, soccer, diving, and track making her the only four sport athlete at the...