Students will have unique opportunity to sign final beam of construction for Topping Ceremoney
Greeley West High School has many traditions, from cheering "G-G-dub, G-G-G-dub WHOOT WHOOT" on the back of a trailer or truck during car caravan for the West vs. Central football game, to the different class chants during pep rallies.But of course because of COVID this year, school traditions have had to be modified to follow protocols to keep everyone safe. However, this hasn't stopped staff and administrators from thinking outside to provide students with some more fun experiences. 
As the new school is undergoing construction in the original Greeley West's backyard, principal Mr. Jeff Cranson and the architects he works alongside with took this as a perfect opportunity to include students in their creative idea…a Topping Ceremony.  What's a Topping Ceremony?  A traditional Topping Ceremony is when the very last beam is placed on top of a new structure during its construction. 
That final beam will be housed in the lobby, perhaps as soon as the end of this week.  The hope is that current Greeley West students will sign the beam before it gets lifted into place.  Students will only be allowed to sign their name and measure are being put into place to make sure that the goal's of the beam are met.  Cranson said he already has plans in place to, "have hall monitors monitor the beam while people are signing to reduce the chance that students will vandalize it."
Bbecause of the timing of construction, this beam will go up mid-July so students will not be here to see it.  But Cranson plans on having it filmed so everyone can watch it on video via social media.
About the Writer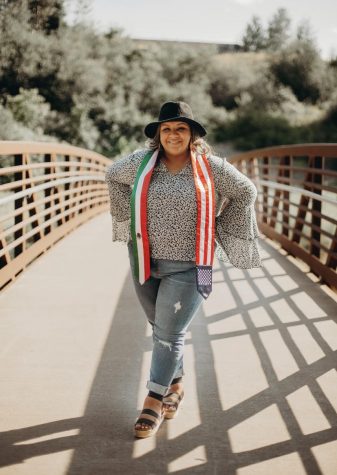 Letia Juarez, Staff Writer
Letia is an AVID senior at Greeley West. She has dreams of one day becoming a trauma surgeon. She values her tight-knit family and her four dogs, Ziggy,...