Enjoy the fun high school provides while you can
As a freshman, when your teachers told you "You're going to blink and then you'll be walking the stage to get your diploma," we laughed and brushed it off. That must be what all freshmen are told as a joke right? Except then you realize it's not…then you are that senior, waiting just days to walk the stage to receive your diploma.
My last four years in high school have taught me many things: patience, hard work, perseverance. But most of all, it's taught me the value of time. When I think back to my time here at Greeley West, the only regret I have is not getting out of my comfort zone sooner and allowing myself to have the fun high schoolers should all have. My advice is to skip being embarrassed to cheer at pep rallies as a freshman because school spirit isn't "cool," skip not going to football games and wearing blue and gold from head to toe because your friends don't think that's "fun." Let loose and get involved.  
Don't spend so much time trying to be liked by everyone else that you forget to have fun yourself. Eventually, you'll go to your last West vs. Central game on Friday night and you'll cheer your last class cheer at those pep rallies without even realizing it…and your time in high school will come to an end.  You'll be forced to be faced with the responsibilities the real world has. Ferris Bueller once said, "Life moves pretty fast if you don't stop and look around once in a while you might miss it."
Enjoy the fun of high school while it lasts!
About the Writer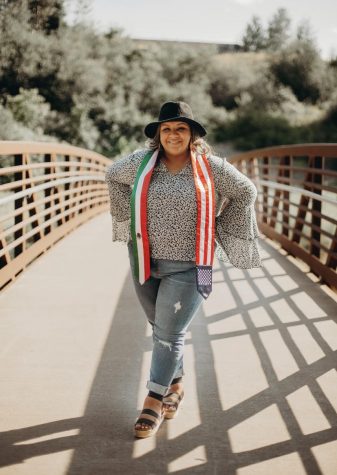 Letia Juarez, Staff Writer
Letia is an AVID senior at Greeley West. She has dreams of one day becoming a trauma surgeon. She values her tight-knit family and her four dogs, Ziggy,...