Word Wall works to improve student vocabulary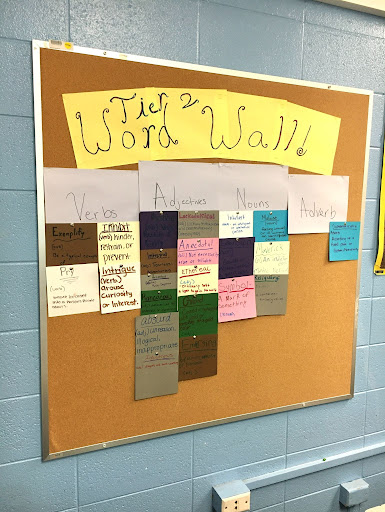 Over the past couple of school years, students have experienced a lack of an enriching curriculum because of COVID-19 precautions and safety measures. In order to improve comprehension and growth of skills, one teacher has found a creative way to encourage students to do just that.
Room 506, home to a variety of English and literature classes, is a place where creativity can thrive. This year students have started a project affectionately known as the Word Wall. Each week students create a ten-word vocabulary list in order to add to the Word Wall. These words have to meet a particular criteria. English teacher Mr. Garrett Leal pushes his pupils to find what he calls "Tier 2 " vocabulary words in their communication and writing. A Tier 2 vocabulary word is one that has a greater meaning and elevates a person's speech. They are used as descriptors, speech enhancers, as well as thought connectors. 
"By using words that have more impact and meaning, that shows some mental and emotional maturity," Leal said. 
Students have shown a clear gravitation towards this continual project. Having a creative display of a variety of words has emphasized the importance of implementing these words in writing and discussion both in and out of the classroom. 
"(The Word Wall) is a way to use Tier 2 words in everyday life. It is an effective teaching strategy that improves literacy," said sophomore Alexi Rodriguez-Valdez.
As of now, room 506 is the only group that has implemented this display in a classroom. Many students do not feel that it is necessary to have a Word Wall displayed in their room. Sophomore Theodore Hirsch said, "I think it might be useful to brainstorm creative words, but I don't feel that it would be useful later down the line with college and careers."  
Leal's Word Wall" reflects student participation and variety with its initial start.