Dual enrollment classes create new opportunities for West students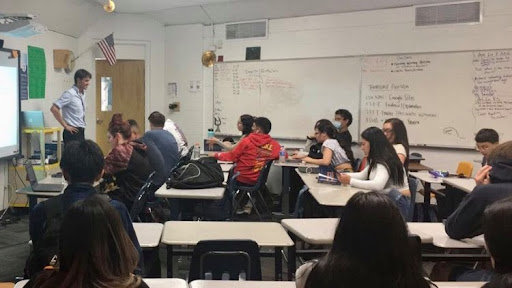 College credit for a high school class?  It's happening, and you might want to get involved as soon as possible.  
Greeley West students are already taking advantage of  the opportunity to earn college credit while taking classes in the building.  The classes are Dual Enrollment and earn credit for the University of Northern Colorado.  
The classes include College Composition, Math for Liberal Arts, College Algebra, and College Stats. These classes in addition to certificate programs that Aims also offers students. 
All high schools in Greeley/Evans have these programs. Not only does it increase the rigor of a student's schedule,  but it is inexpensive and free for students attending to sign up. 
"They can get college credit that is transferable to nearly every public university in the state. Why not get an early start on college while you're still in high school?" College Composition teacher Mr. Garrett Leal said. "Also, it can fill your Senior English Capstone if you're still needing that."-
The school district is paying for students to take the class. If students receive less than a C, students will have to pay $200 dollars back to the school district. 
Compared to having to pay $1,200 or more per semester at any college or university this is a win for students. 
Some highly competitive universities may not accept the credits, but most public schools in Colorado will allow that university transcript to count for classes toward a students' degree.  
 Greeley West also has programs at Aims,  but classes will be taught at their campuses and not at West. .
"I think having UNC classes at West is a great opportunity for the students at West," Math for Liberal Arts teacher Shannon Schott said. "The students can get an idea of what college classes are like and what some of the expectations are."
These programs will benefit the students in many different ways and they will now know the pressure of taking a college course and observe the difference between high school and college. It gives students a chance to absorb and change the ways they need to be to get prepared for college.