Construction Trades class makes curriculum adjustments because of classroom locale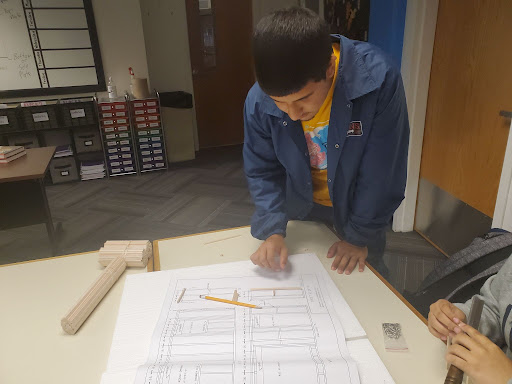 With the construction of the new school come positives and negatives. Due to other classes having to go into different rooms, the construction class has been removed from their shop for some periods during the day. This takes away the hands-on experience of the construction classes. 
"I feel it takes away the purpose of taking that class. I believe that construction should be a class taught hands-on instead of on a computer and paper," sophomore Ethan Guest said.
The construction classes have had to make compromises to try and grasp the hands-on experience without being in their construction shop.   Construction not being in the shop takes away the thrill of using tools to build things in which they haven't built anything all year.
 "We have had to compromise the learning and what goes on behind the scenes of construction. We haven't built anything this year, we have only made blueprints and looked over blueprints," sophomore Tucker Hurley said.
Part of that compromise is working on model houses in class, rather than some of the bigger structures kids see outside of the shop.
Construction Trades teacher Mr. Jordan Karlberg said that the goals of the class have not changed, despite being located in the business lab instead of his workshop. "Because of our limited capacity in the shop, we have to be up in the business lab. In order to make the class a little more hands-on like the students are used to, we are incorporating these model houses so students are still working with blueprints and applying the blueprints to an actual structure," Karlberg said.