AP History class goes back in time for Common Good lesson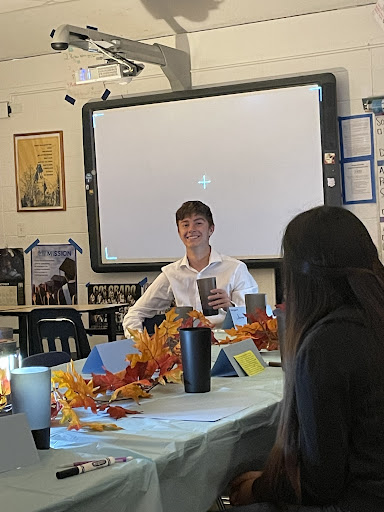 Greeley West High School' Advanced Placement U.S. History class traveled back in time last week to connect students to the history of the late 1700s.  Teacher Ms. Lea Sanford called the activity a Symposium on the Common Good.
Sanford and her UNC teacher candidate xxxxxxxxx dressed as barmaids who watched over the event. The classroom was set up as a salon that would have taken place in a saloon at the turn of the 18th century.  A long table was made in the middle of the room and students sipped on root beer to simulate the salon experience. 
Each student was given a role to research and simulate a discussion on life, liberty, and the pursuit of happiness.  Each character gave a speech regarding what their person during that time frame would have probably said.  The issues discussed included: freedom, individual rights, equality, stability, and security. Characters could then interact and argue with one another about their topics of discussion.
Students enjoyed the hands-on learning and the different and fun take on a history lesson. Learning in a way like this helps students comprehend different ways of thinking rather than just taking notes on lectures. This targets the students' other senses and studies show that they are more likely to remember and comprehend the assignment.
Students genuinely had fun with this assignment; they were laughing and having strong arguments. Senior  Dylan Gesick, wo played James Monroe, went above and beyond and dressed up for the part. Gesick said, "Activities like this make it more fun and help you bond with the teacher and your classmates to make the subject more interesting."