'Frosty' performance warms West's commons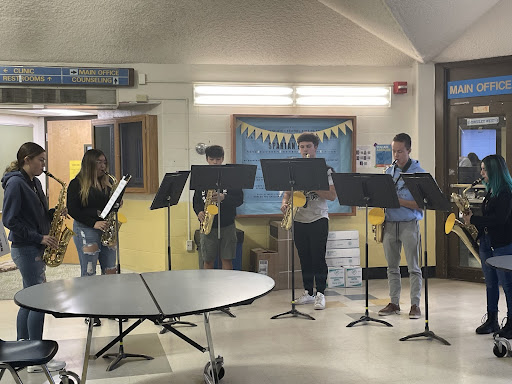 The typical morning was brightened by holiday sounds on Thursday at Greeley West High School. Thanksgiving music you think?  Nope – Christmas tunes. 
During third period Jazz Band shared its first Christmas song of the year:  "Frosty the Snowman" unexpectedly.  Band senior Karen Livera said, "Even though it's only November we're just getting into that Christmas spirti… Chrristmas vibes only!"
It's true, the holidays are approaching. However, is it too early to get into the Christmas spirit in the first week of November?  The Jazz Band does not think so, as they are rehearsing for their performance in early December at West and for their tour of  local middle schools on the 19th of November.  There's a limited amount of time to celebrate the holidays and West is getting involved in spreading the holiday joy beyond it s school early. 
Students stopped to listen and smile to a preview which the performers referred to as their "mini showcase."  The office staff enjoyed the tunes. "It's definitely one of the more relaxing things the jazz band does for us, Ms. Sasha Cohoon said. "It's nice to see all the good stuff the kids do since most of the time we get a lot of the bad things here in the office."
It truly was a breath of fresh air for the school, even if i the calendar says it's a little early.