Gingerbread house contest provides fun way to conclude catering class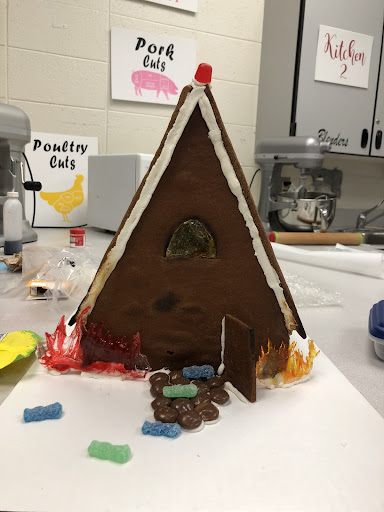 As the semester comes to an end, finals week is upon us. It is important to stay determined and continue to work hard as we close out the year so try to get those grades up. 
Of course finals week is not known to be fun at all but some classes do try to make it enjoyable. In Ms. Brenda Guzman's catering classes the final project is creating festive gingerbread houses. It is a perfect time for gingerbread houses since we are in the holiday season. 
The students competed against each other to see who can construct the best looking gingerbread house. They will be teaming up to work together against other teams. The different creativity and styles can be seen once you are in the classroom. Everyone is coming together and having fun which matters the most. 
Senior Jaziel Soto said, "It is a fun final project and a good way of ending the semester for this class."
Putting all your attention and working with your hands can take your mind off of other stressful events going on in your life. "On Tuesday the gingerbread houses will be judged and the winner will be announced. " said Guzman.
The judges will be other teachers in the school making this final even better.