New road closure sure to create more headaches for West drivers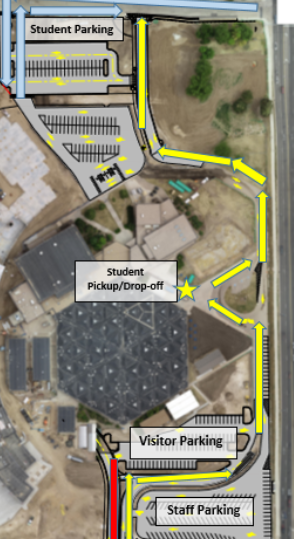 Greeley West traffic patterns will switch again today.  At least it's not the new building causing the traffic jams now.
Starting today, the city of Greeley has closed 38th Avenue to thru-traffic because of new construction happening adjacent to Greeley West Park.
Students know that to be the quick way to and from lunch on Centerplace drive.  Parents know it to be a way to escape the traffic that backs up on 35th Avenue after school each day.  Both will need to find new routes starting this afternoon.
In a statement, principal Mr. Jeff Cranson said the closure will force administration to enforce the policy set to begin in August.  That plan had traffic routed in a one-way pattern with no exit access on the south side of the school.
"This closure will significantly impact the traffic in our south parking lot.  Vehicles will no longer be allowed to turn right out of our south parking lot, meaning delays in getting in and out of our parking lot," Cranson said.
Cranson is asking for incoming traffic to enter at 24th Street for drop offs, but to exit on 22nd Street.  The lane out will be closed for parents, students and staff.
The closure will impact traffic at Greeley West through at least March, the statement said.