Criminal behavior in neighborhood builds mistrust with community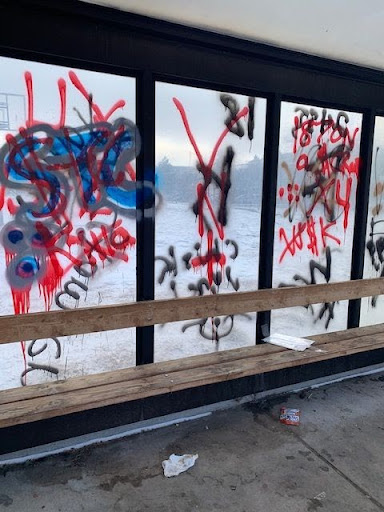 As Spiderman might say, with off campus privilege comes great responsibility.  Greeley West students are certainly feeling that way as vandalism, theft, and general disrespect continues to stain their reputations as Spartans. 
Certainly, not all West students are to blame, but the community is certainly placing some of the blame on kids currently enrolled here.  It's hard to blame them, given the the immediate area around the school.  Blatant vandalism and trash on business corners has – pardon the pun – littered West's reputation amidst local businesses.
In fact, local business and apartment managers would not go on record out of fear of specific targeting.  With all of this mistrust, how can the school repair its image in the community? 
One of the hot spots for theft and loitering has been King Soopers.  Campus monitors and administrators have been called in to support the store at lunch time.  One employee said the help is appreciated, but that problems persist, causing mistrust. "One way (to improve our relationship) is having more hands on from West to stop the kids from stealing," an employee said. "The stealing is definitely a big part of the decline in the school reputation." 
One of Greeley West's biggest reputation ruiners is the actual location of the school.  It's the most centrally located school around businesses in Greeley, something the King Soopers employee noted.  "Compared to other schools, you don't hear much about bad behavior. Hopefully there can be a kind of culture change to wear it doesn't have to be like that," they said. 
There has been an uptick in graffiti around the building.  One of the businesses in Westlake Square who is a neighbor of King Soopers, who again, wished to stay anonymous to prevent a re-tagging, blamed adults more than kids. "I think parents just need to pay more attention to their children. It's a problem everywhere with tagging. I think there needs to be more after-school activities for kids so they stay out of trouble." 
The bank across the street is a popular gathering for Greeley West students who wait for parents for rides.  They continue to try to do right by the good kids who attend Greeley West.  "I know everyone is in a bind with the new construction, and we are trying to be neighborly, but when kids are hanging off trees and fighting in the parking lot it's hard," one manager said.  "Half of my frustration is with the parents. I think the kids eventually got it. I don't mind them waiting on the corner to get picked up, but just don't leave trash and be disrespectful."
Greeley West students have noticed their reputations being tarnished by the behaviors of others. "I am looking out and making sure other kids aren't doing any stuff and I am just trying to be a good student and be respectful to others," senior Gerardo Hernandez stated. 
Another senior, Saul Nabor, said it's important for older students to set an example.   "I think the upperclassmen have been decent about showing the lower classmen how to act. Hopefully we can continue to be a good influence on the lower classmen," Nabor said.