Sophomore grant winner will raise cattle herd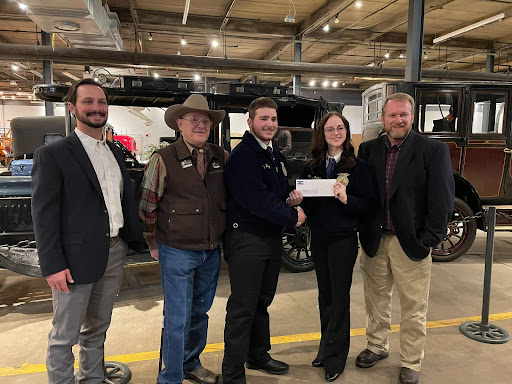 Sophomore Tucker Hurley saw an opportunity to get ready for his future earlier this school year in his Agriculture class and he seized it.  Hurley received a $1500 grant to raise his own cattle herd.
A simple conversation with his mentor, Mr. Kelly Longacre made all the difference. Tucker expressed an interest to explore cattle raising after scoping many options within the field of agriculture during class. When Longacre saw the grant was available, he shared the news.  "I heard about the grant from Mr. Longacre after mentioning ranching to him," Tucker said.
Longacre said Tucker deserved the credit.  He was just there for support. "I told Tucker to take time to fill out the application correctly; I also wrote a letter of recommendation for him as well," Longacre said. 
Tucker had some serious competition when trying to receive this grant, with applications coming in from agriculture students across the state.
Raising cattle is a lofty goal, but Tucker has big plans to successfully do the job.  The grant will allow Hurley to start from scratch. "My goals are to buy a Heifer, work with her and eventually show her at the County and State Fair. Then I will breed her, and have a calf from her to grow my herd."
The opportunity to win this grant was open to all students who are actively a part of the agriculture program here at West.  But Longacre said it was perfect for Hurley.  "My students saw the posting in my room and were welcomed to talk to me or Ms. Pierce. However this grant really was suitable for Tucker at the time, making him out to be the right fit," said Longacre.
Hurley is just another example of how West's agriculture students  are very to their craft,. The comradery, community and service that comes with this industry is something that touches many who have dreams of pursuing an ag career in the long run. "I encourage all students to come talk to me or Ms. Pierce to find out what opportunities are available, and then we can match the (grants or scholarships) that best meet those goal," Longacre said.  
Hurley will continue to work on his cattle breeding and hopes to achieve this through the rest of his life. "I plan on keeping my heifer my whole life because this is the start of my herd and my dream is to become a cattle rancher. But, for right now my heifer will be housed at the Greeley West School farm," Hurley said.