There's still time to donate to Greeley Pantry Project Food Drive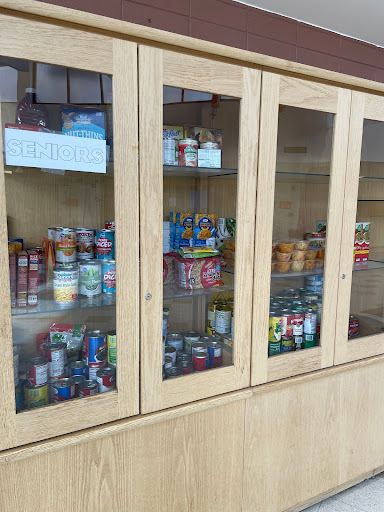 The canned food-drive is well underway – almost complete, in fact! Greeley West students have been working toward collecting 1,500 non-perishable foods for the Greeley Pantry Project by the end of the month. 
The Pantry Project is aimed at setting up community pantries around the city of Greeley – full of donated non-perishables – to allow anyone who may need free food throughout the entire year to go and get it. 
This project was thought up and made possible by the Junior Board of the Success Foundation. Senior Nathaniel Rudolph is spearheading this initiative in our building. 
Other students have gotten involved and are passionate about volunteering for this. 
Junior Taylor Dunbar, who is also on the Junior Board said, "Our goal is to get the food pantries filled or at least started, to give back to the families that need it in our district."
Dunbar hopes there's a final push in the coming week.  "I think [Greeley West] could do better [with collecting food] but I think that what we have is a good start for what we need with the pantries and other schools getting involved will be a big help," said Dunbar. 
Greeley West has collected around 850 items this month and is still counting. The food drive in the building ends on February 28th so students are still being encouraged to donate as much as they can before time is up.
Science teacher Ryan Pace said, "The senior homerooms are supposed to be doing community projects and some of them have been awesome, but some of them didn't know what to do so they combined it in with the Food Pantry, which I think is wonderful."
Pace said the more foods that come in, the more kids he sees participate.  "The goal with this is that it's kind of contagious and that it gets other classes to start participating a little more. And I think this could be a big thing for us moving forward," explained Pace.