Future entrepreneurs celebrate qualifying for DECA State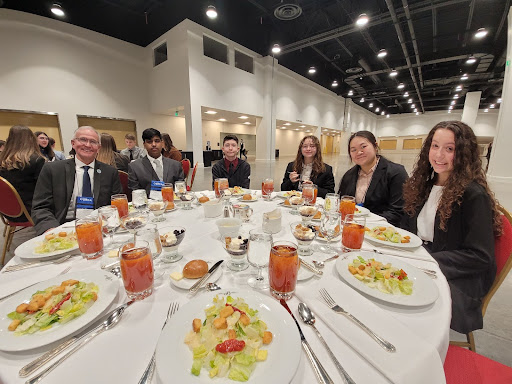 For the students at Greeley West that love everything to do with business there are many programs and classes that are perfect for them. One club that stands out from the rest is DECA. 
DECA's goal is to prepare emerging leaders and entrepreneurs in marketing, finance, hospitality and management and improve skills like competence, innovation, integrity and teamwork. DECA membership is available to students in grades nine through twelve and membership is also open to DECA advisors, alumni and professional members. 
Each year, the DECA season, if you will, comes to an end at State.  The state competition is held at the Broadmoor in Colorado Springs.  It is a 5-star resort that is one of the nicest hotel communities in Colorado.  Over 3500 students qualify for the competition in their local districts.  Mr. Rich Dufault, who has led the program since 2015, said, the competition is fierce." 
Dufault has taken 33 DECA members to Districts in his time at West.  Of those 33, 24 have qualified for the state competition.   One student – Spencer Evans – made it all the way to Nationals in 2018. Dufault was excited this year because it  was the first State competition to be held in person since Covd.  "It's an incredible opportunity for the students who have qualified to attend state," Dufault said. 
The DECA state championship is for students to step out of their comfort zone and learn more about their interest areas. In the competition they roleplay on a potential real life situation that they would have to deal with in their category. After they roleplay their performance is judged and gets scored. Dufault believes it is good for the students"… whether they are introverted or extraverted it is a great opportunity for that student here at West," Dufault said.
Current seniors have taken the underclassmen members under their wings and mentored them for preparation for state. With the construction of the new building, Dufault is hoping for an expansion in numbers in the club.  "All of the students coming back next year are underclassmen. Hopefully next year, they come back to compete whether it's a similar or different event and hopefully they bring some friends," Dufault said.
Student DECA member Kaitlyn Fenton was amazed by her first state DECA experience "We went down there on a Sunday morning it was really early. But once we got to the opening ceremony, it was nothing like I've ever experienced before. Seeing a full on production –  it was really cool," Fenton said.
Her experience has inspired a motivation to get into more business classes and activities. "I'm actually not in a business class right now, but I'm looking forward to going into more depth with the business career and seeing all that could be there," Fenton said.
DECA's official colors are blue and gold which makes it a perfect fit for any Spartan student. Make sure to visit Dufault's room in 602 if you are interested.