Senior's poetic journey to State Forensics ends in third place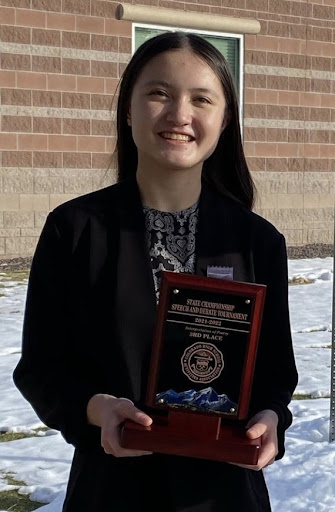 "I'm Gabriella,
I am a poet!
I performed a poem just to show it!
I have made great memories 
Saw people spittin fire, 
makin comebacks for Greeley!
State was fun, but it was hard
my vocal cords are still kinds scarred
3rd place out hundreds in the land
Takin what I can from digital graveyards" 
A poem by Gabriella Lam from her Instagram
Over Spring Break the Greeley West Forensics/Speech and Debate team competed at State and West's very own Gabriella Lam placed third in poetry. 
The poetry category is dedicated to performing "stitched-together" poetry pieces based on personal interpretation. There are also sub-categories to this system where you can perform with humor or drama pieces. 
Gabriella Lam performed in poetry and has been preparing to compete at state since before COVID-19. 
Lam shared, "I was happy to go to State. Back in 2020 I also qualified for State but, because of COVID, I was never actually able to go. So, it felt like things were coming full circle and I ended up in Top 3. And I'm just happy to have been able to experience it,"  exclaimed Lam. 
Reconnecting with the opportunities that she missed due to COVID has been a very positive influence and she hopes that her naturally caring nature will leave an impact on continuing and future forensics students. 
Lam said that her advice to those students would be, "Definitely drink a lot of tea [for speeches] and especially if you're screaming [in the speech] or something. Another thing would be to memorize early. If you're thinking about joining Speech and Debate it would be nice – so that you can experiment later." 
Lam, letting future members in on her tips and tricks is an important part of success in this team. And although it isn't all about getting to State, it's important to dedicate yourself to the craft, as Lam has done for all her years at Greeley West.