Library became pop-up shop for Prom dresses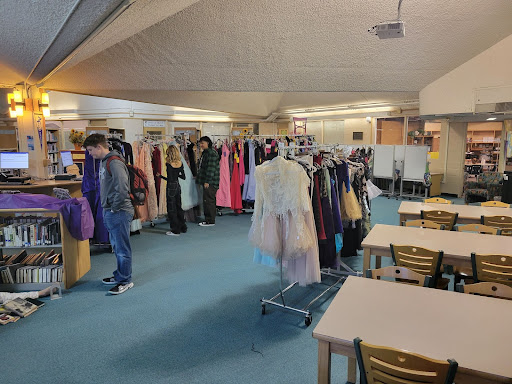 Late last week into Monday, a portion of the Greeley West Library became a haven for fashion. It was full of dresses, shoes, jewelry, and many other accessories to prepare students for Prom on April 30th. 
The organization Aubrey's Closet, who hosted the gallery, travels to various schools across the country providing fashionable, affordable (free) opportunities to dress their best for Prom.  
Many students have gleaned around the library to get their glance at the various types of fashion they could wear. One teacher very involved with the galley and fashion as a whole was librarian Ms. Susan Eastin said. She explained the setup.  ¨The idea of Aubrey's Closet is that it would provide dresses and many other things to students that may not be able to afford them.  Around 12 dresses were taken, a few purses, some shoes, and a lot of jewelry were taken by students. It was very successful and Aubrey's Closet was pleased to hear that it benefitted students and wants to come back next year for both Prom and Homecoming," Eastin said.
The expo was open to all students.  The organization is named after a girl who disappeared in Nepal on a hiking trip.  As a memorial, her mom collected her Prom accessories and gave them to kids in need.  Eastin explained, "It has had multiple donations from thousands.¨
The variety of dresses and accessories in the library has had a huge impact on what students are looking for, what kind of dress they want, and even a decision on what color they want to show up in. Junior Koen Coveli said, ¨Prom fashion display in the library gave students the opportunity to shop for a Prom dress without the worry of cost. Aubrey's Closet was a fantastic thing, and I hope they continue to do it as it didn't just help me, but it helped so many other kids as well.¨