'Matilda' will bring new beginning to Greeley West theater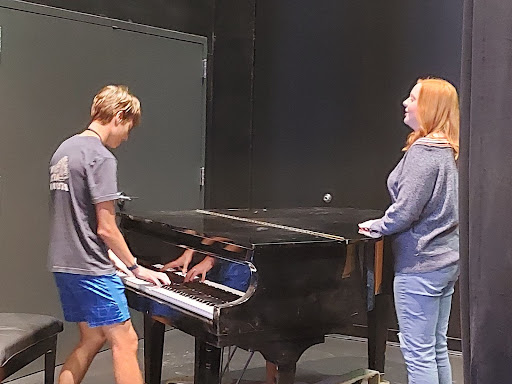 The first play in the new auditorium will be give light to an old idea.  The Greeley West Thespians will be bringing back Matilda as this year's fall play.
With all of the changes Greeley West has endured over the last few years between COVID-19 ransacking the world (2020), to saying goodbye to the old Greeley West building (2021-2022), it would make sense if Theater Director Ms. Peggy Freemole had forgotten about the play.  Instead, she's here to commemorate these trying years by reintroducing Matilda.   
Matilda was originally set for the Spring musical of 2019-2020 school year.  Due to all the hardships of half the country being shut down, the show was canceled for that school year. Every school in the country went to remote learning and social distancing.  The following school year, nothing happened again on the West stage as the school was still dealing with COVID protocols.  It only got worse in 2021, as construction of the new Greeley West really got going.  As a result, only two shows were held in the 2021-2022 school year:  Beehive and A Fond Farewell to the Greeley West Stage.  This meant Matilda was put on the backburner again.  
The Fond Farewell show was a celebration of the old Greeley West stage.  Freemole decided to call upon her many students from years past to honor the legacy of the Thespian program.   This show brought back so many memories for the Greeley West Theater program as audiences were able to see small bits and pieces of many musicals from the past.
The Matilda musical seems to be a long awaited show.  Several of the cast members that were in the original show that were never able to take the stage are excited that the time has finally come.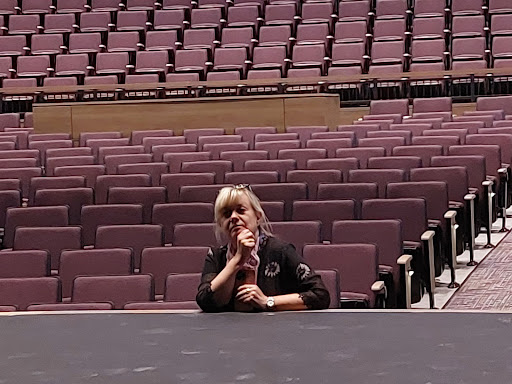 Senior and returning cast member Jeb Mathews, who plays Agetha Trunchbole, said he is thrilled about being able to perform in the first show on the new Greeley West stage. "There's so many things that can be done in this new space… it's gonna be one of the best shows I've ever seen," Mathews said.
With Matilda being the first show, it is bringing a lot of new opportunities to kids who, due to COVID, have not been able to fully explore their capabilities.  Junior Maddie Zeller, who plays Mrs. Phelps, said she is most excited about building a presence on and off stage. "I haven't really gotten the chance to explore my acting capabilities because with Beehive, it was just singing and dancing skills," Zeller said.
Junior Landon Mitchell agreed.  "I'm really excited to just be able to perform on stage in my first musical," Mitchell said. 
Senior and returning cast member Lane Renouf,  who plays Matilda's brother, said he's most excited about being able to play the role – which changed with the graduation of other actors.  "I'm very happy with the role I got because Matilda's brother is a very big comedy point in the show," Renouf said. 
Freemole said it was an easy decision to make Matilda the first show on the new Greeley West stage. "I wanted to make the first show big and something people would remember," Freemole said.
Mathews agreed.  "It was a no brainer! If you want something to always be remembered you start with something big," Mathews exclaimed.  
Freemole is most excited to give Matilda the attention the play deserves.  Freemole explained that after being initially shut down, Matilda could have been performed the following year.  However, with COVID restrictions Freemole would have to do the whole performance with actors in masks and only 50 audience members could attend.  "I just simply wasn't going to take the time and spend the money on the sets, scripts, costumes, and whatever else we needed for such a big show to just be able to show it to 50 people and have to force my performers to wear masks," said Freemole. 
Mathews has been enjoying learning the new technology and theater space.  "We have so much new stuff to be able to mess around with compared to the old building," Mathews said.
Freemole is genuinely thrilled to be back at it.  "This show is going to be a great new beginning for West. Nothing will be different from the last 36 years, except we have a lot more space and tech," Freemole said. 
The show will run November 11th and 12th at the new Greeley West Stage.  More details will follow as the show dates approach.