Some Spartans chose to wear orange on first day of Spirit Week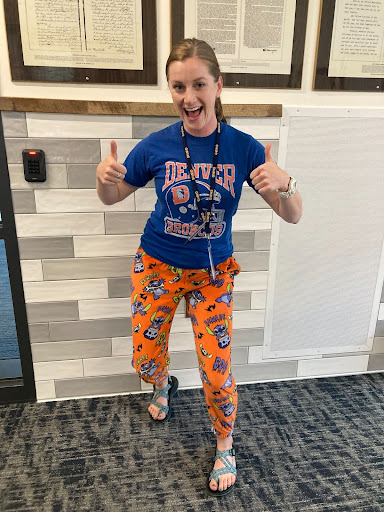 Students and teachers are hyped for the start of the Denver Broncos' season. Today was first day of Spirit Week, but some Greeley West students chose to wear Bronco gear instead.  They are die-hard fans and will support their team all day everyday. They are very excited for what the Broncos first game has to bring them. 
Social studies teacher Ms. Nicole Jewett will argue that the Broncos will do much better this year. The Broncos have added many new players to their team. They have added almost a player for each position of the team. One of these players are Russell Wilson. Jewett also believes that with a stacked team they will go far this season. "We got a new team, a new captain and leader. I think Russell Wilson is going to be able to get in there and get the job done," Jewett said. 
Student Aramis Loma also holds that belief. Loma trusts in the inclusion of their new quarterback and thinks they will be full elite this year. "The past five years they haven't done so well and been a quarterback away. But with the addition of Russell Wilson he will take us far and hopefully we'll see multiple wins," Loma stated. 
Fans believe that it is worth it supporting the team. Although it is Spirit Week, they refused to give up a spot for their jerseys. Student Jhael Soto believes that wearing his Broncos gear is worth it. Soto said, "I think representing my team is very important and it makes me feel as if I am part of the team." 
Jewett is very competitive but she makes sure to support both her team and school spirit. She was found wearing a Broncos shirt and pajama pants. "It's game day and the first day of Homecoming Week, so why not have both? We are rooting for the Broncos with our PJs on," Jewett said.