Get out there and find things to do – they might surprise you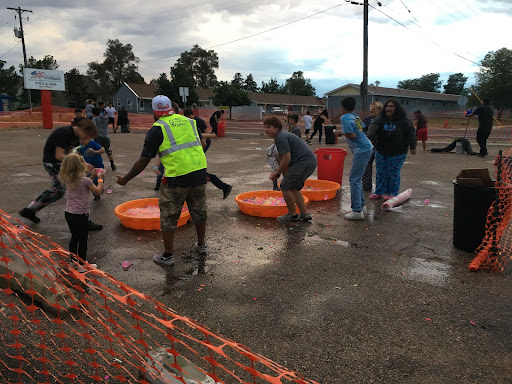 A lot of kids complain about there being "nothing to do" in Greeley.  That's not true… there are lots of events that young people can take part in around the cities of Evans and Greeley.  One activity was the back to school party that happened at Refuge Indoor Skatepark.  This happened at the end of August on a weekend and provided hours of entertainment to me and my friends.
We wandered around to see what there was to do there besides skating, but it was difficult to move around since almost every building was filled up with people.There were a bunch of game systems, ranging from an old Nintendo system that ran the good old classic Super Mario Bros, and a Xbox that had Minecraft for two different players, which was mostly taken up by random people.
Soon we headed to the skating rink so they could skate without me since I never skated once in my life.  I didn't really feel like learning how to that day with the random boards they offered to people there. After they all finished skating, we ate some free food – hot dogs and burgers – that the party had grilled for everyone.
As the party went on, more people started to enter into the party, and I saw a bunch of familiar faces walking in.  People from my middle school were there and they just looked so different from when I last saw them.   It was a trippy moment, but I snapped out of it after a bit.
Organizers of this party soon started to set up for a band.  We didn't think much of it since we had no idea what band was playing or when they would show up.  But we did mess with the instruments they left unattended for a little while.
Later in the day, there was a water balloon fight, but I didn't participate.  I didn't go since I had nothing to dry myself with, and my friends didn't go in either since they weren't that interested in it. So we just watched the event go down from the sidelines.  
Turns out this was a religious event because people started to get baptized.  There was a stage and a huge metal bin full of water for people to get dunked in. A few people got baptized there and then there was a speech, and people started to chant some religious stuff.  I wasn't sure, since I didn't really care what they were doing.  We just watched from afar until they were finished.
After the baptism, the sun went down and it was finally night time.  That's when the band came out and started playing.  I had to get away since their microphone and instruments were so damn loud that I couldn't even hear myself saying words.  But the performance was still cool though, even if I couldn't really enjoy it because of their volume.
After all of that I just wandered with my friends, we joked around and passed the time doing whatever we could there. After 3-4 hours of entertainment, I started to feel tired and worn out.  I just sat down somewhere and waited for my ride.  I didn't know what I was getting into, but taking a chance on an event like this is a lot better than sitting at home.  So go out and find some events like to be a part of.  Maybe you'll even get baptized.