Spartan clubs ready to get Car-ried away at Caravan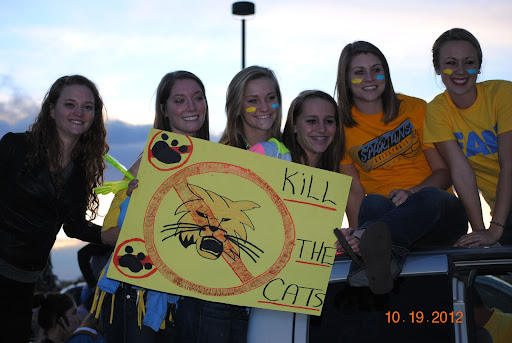 Next week is the most important week for school spirit as West-Central week is celebrated.  West will be playing their cross town rival Greeley Central  in football next Friday. The week will include a spirit week, an assembly , and of course the Car Caravan.  The Car Caravan has been a tradition at West for over 40 years. 
"The Car Caravan is a parade, where some of the different clubs and sports teams at West each decorate their own car/ trailer themed to their organization/club, that drives all the way to District 6 Stadium for the game," said senior Student Council President Sam Providence.  
The Car Caravan is an opportunity for West to show off school spirit to the rest of Greeley while they drive through the streets.  It is also a chance for West to intimidate the Greeley Central football team, and really get in their heads before the big game.  
"West is known for school spirit and it's important to keep that reputation," said sophomore Mariah Tapiah.  
Participation is really important for the Caravan.  By definition, it can't be a caravan without multiple vehicles.  Providence said, " We just want to encourage people to participate and go all out.  The more the merrier."  
Safety is also a concern with people driving down the road standing on the back of trailers and vehicles.  Because of this, the Car Caravan goes nice and slow and will get a police escort to the stadium after the cars are decorated.
The Car Caravan is also a competition, and a prize will go to the best decorated vehicle.  The festivities start after school on Friday.  Students must register their vehicle with Mr. Zach Armstrong before participating.