West community starts hunting for snowflakes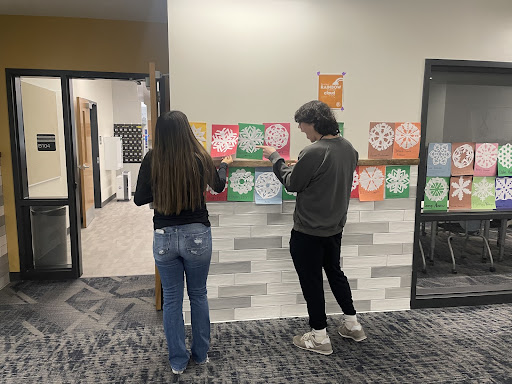 If you've been in school this week, you've seen that Student Council finished their yearly tradition of snowflakes. The council came in over the weekend to hang these snowflakes, each a personalized decoration with your name written with it. The work wasn't just done over the weekend; the West community has been getting ready for months just to make each Spartan happy. 
Student Council sponsor Ms. Lea Sanford said, "The purpose of the snowflakes is culture building. Every student and every staff member gets a unique snowflake that someone took the time to cut out and write their name on. At its best, snowflakes show the amount of diversity in the school and the community of our school." 
As students and staff are in awe once obtaining their snowflakes, they don't understand the amount of work it took to make. The 10 minutes of trying to find the snowflake doesn't come close to the preparation of these. 
Sanford stated, "We (Student Council) started back in October. (senior) Yasmine Adams led the committee on snowflakes. So she went out making 100 packets of construction paper and 100 pieces of copy paper, then went to a staff meeting asking for help from clubs or even classes to make 100 a hundred snowflakes."
This sure isn't an easy task to do.  This year student council hung nearly 2,200 snowflakes. This included students, faculty, staff, and coaches.   
Sanford said the snowflakes this year are particularly important with the new building.  "It is important to remember that Greeley West is a new building and not a new school. Whatever traditions we can carry over to the building just helps. There has been a long line of Spartans that have been through and we just need to carry on their legacy," Sanford said. 
Upperclassmen were touched by the continuation as well.  Senior Vianney Olmedo Soto said, "It felt special to finally find my snowflake. But it was also very bittersweet since this is my last snowflake. I love this tradition in the West."