West actors hone craft at Thescon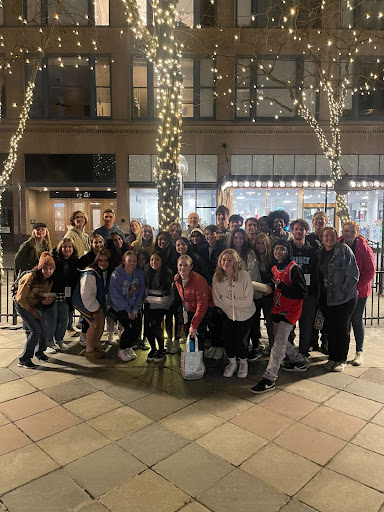 On Thursday December 1st, Greeley West Theatre, led by Ms. Peggy Freemole travelled to Denver to participate in the State Thespian Convention at the Denver Convention Center.  The students spent Thursday and Friday night at the Embassy Suites directly across the street from Convention Center.  
State Thescon is a chance for thespians in Colorado to come together, and celebrate their passion for theater.  There are thousands of students from big and small schools at State Thescon.  Students can choose to enroll in hundreds of classes during the convetion.  During the day at Thescon, students take four classes that last about 90 minutes each.  
There is a large variety of classes depending on your interests in theater, including tech classes, dance, singing, auditioning, improv, and many more.
"I especially enjoyed my class that taught us how to audition for commercials, and TV by recording ourselves," said sophomore Madison Vella. "Thescon was an awesome experience and I would recommend it to anyone."
During the evening hours, all the students gets together to watch performances performed by other schools in the auditorium.  One show that was especially popular was Chicago.  Sophomore Gavin Petersen said, " I loved Chicago and it had my attention the whole time."
Petersen was not the only one who felt this way.  Vella said, "I just loved Chicago, and would love to see it again!"