'Josephine Baker' shares her story with West students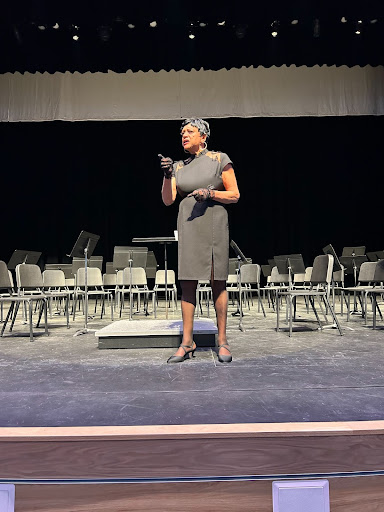 Greeley West was fortunate enough to take a trip back in time as history students got to watch a performance from Becky Stone, a Chautauqua artist who portrays the life of Josephine Baker.
Josephine Baker was a black jazz singer during the times of the Harlem Renaissance. She was born in St. Louis, Missouri in 1906. As a child, Baker dreamed of becoming someone big on the stage, by having the natural talent of being able to dance and sing. As an adolescent, Baker developed a huge love for helping others. During the St. Louis riots in 1917, she helped distraught families, protecting them from the violence and theft.  
Baker was taken in for her first performance in Memphis as a dresser when she was only thirteen years old. Her first opportunity as a chorus girl came to be when one of the original chorus members couldn't do the show.  The music overtook her and she was able to do her own performance and the audience at the time loved it. 
During the 1920's she became a star, first performing in New York City, and then being able to perform in Paris. A performance in New York led to a revolution in her performances: desegregation. During World War II, Josephine was a spy for the French, British, and the United States. Ultimately she was awarded three medals for her duty being honored with the Croix de Guerre and the Medal of the French Resistance with Rosette, and de Gaulle named her a Chevalier of the Légion d'honneur. Part of her spy work also included being friends with Italian dictator at the time Mussolini. In addition to being a part of history during World War II, she was also a speaker at the March on Washington with Dr. Martin Luther King.  
Stone explained the hardships of researching for the character of Josephine Baker saying, "Half of the material and books were in French and I can not read French anymore, although there was a day where I was able to read French." 
Stone also portrays five other historical figures: Pauli Murray, Harriet Tubman, Rosa Parks, and Maya Angelou.
AP History senior Melanie Astorga, who is learning about the Harlem Renaissance in her class, got a sense of reassurance hearing Stone's story saying, "It's refreshing to see people still be able to find ways to do what they love even if it wasn't their original plan." 
English Teacher Ms. Fellinger loved the reenactment stating, "She really made history entertaining and applicable." 
This was a unique moment for Greeley West history students to get a quick visual on what they're learning about in class.