Cheerleaders win Sweetheart Blast (again)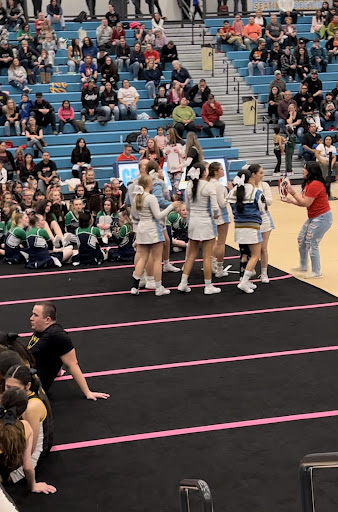 On Saturday February 11, Greeley's favorite cheerleaders got first place at Sweetheart Blast in their Gameday division. Sweetheart Blast happens every year in February which is hosted by cheer coach Brodie Subia who has been coaching and hosting competitions at Greeley West for many years. The cheerleaders have taken first place once again this year which staff and students are very proud of the girls. 
There are 11 girls on the team but seven competed on that mat at 6:00 p.m. on Saturday and took the win from Greeley Central which was their competition in their Gameday division. There were also many other teams competing in different divisions from all over Northern Colorado. These divisions included people of all ages and different skills from tumbling and jumps to  stunting and crowd leading. 
The team, parents, Brodie Subia and Evelin Javalera were here at Greeley West before 10:00 a.m. on Saturday to set up for the competition. Setting up included getting all the mats ready in the main and aux gym, getting water prepared for the teams before and after competing, concessions for all people and decorations to make this competition an astounding one. The competition started at 3:00 p.m. with the All Star division then went to the high school level teams later in the evening. Many people were there to support all the teams from the time it started to the time it ended.
The cheer team this year has overcome many challenges this year with people quitting, getting kicked off, and injured. Incidents have affected the team all season but before Sweetheart Blast, the team only had three practices from 4:00 p.m. to 6:00 p.m. to change the whole routine. Many issues have affected the team this year from the beginning but each and every one of them have pushed through and showed the town just how good they are with getting first on Saturday. 
Awards were announced around 7:55 p.m. where the teams were all gathered on the mat supporting each other and hoping for the big win. Greeley West got first with a score of 81 out of 100 points. After the competition was over, the cheerleaders had to stay to clean up the school and take everything down that was a part of the competition. Brodie Subia is very proud of how well the girls did that evening in their last competition of the season.