Former Greeley West Spartan shares nugget of information with current AVID students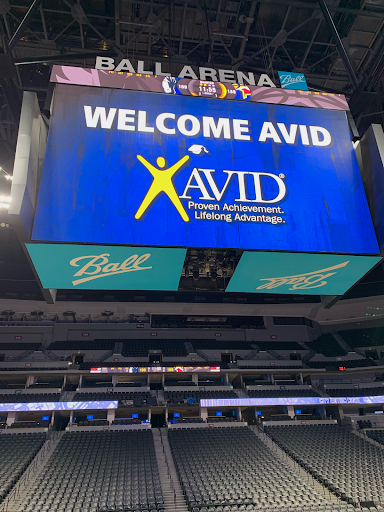 Over a week ago, the Greeley West High School Juniors of the AVID program headed down to Ball Arena to have a day to learn about college and all the paths students can pursue once they are ready to take those next steps. Many AVID students have been to this event, since it has been going on for at least five years. With many AVID classes having the chance to go to this event, a former AVID student has gotten the opportunity to go from listener to speaker.
That speaker was University of Northern Colorado senior Lupita Nabor, a former Greeley West Spartan. Nabor remembers the experiences she's had, and wanted students to learn from someone who has been in those students' shoes.
"I made sure to tell my story in totality and allow myself to be vulnerable and truthful," Nabor said, " I ensured that my personality was shown as I wanted to give an authentic presentation, so maybe the students would be able to relate and be able to listen and take something away and have a good time overall at the event."
Her goal for the event was to leave the listeners with some keynotes, such as the importance of making connections. Nabor said "Involvement is important too, especially in making connections, because you never know who can refer you or suggest you for an opportunity."
Nabor got the chance to speak at the event when the Associate Area Director reached out to her. She gave thanks to her former teacher, Mr. Dave Falter, for referring her.
Junior Yamileth Pacheco noted from the event how many pathways there are to pursue post-high school. Many opportunities were present at the event. Pacheco made sure to take advantage by scoping out the options available at the event. "The event showcased different colleges and allowed us to learn more of what they have to offer." Pacheco said , "I was able to identify a lot of colleges that give me the opportunity to major in my preference."
Junior Miguel Lopez is looking forward to becoming a future geologist and not only did this event show him colleges that offer what he is looking for, but others possible pathways after high school. Lopez said "the event was a college fair, and allowed people to see many colleges and future options that they can choose from."