'Love you, good-bye:' Administrators move on from Greeley West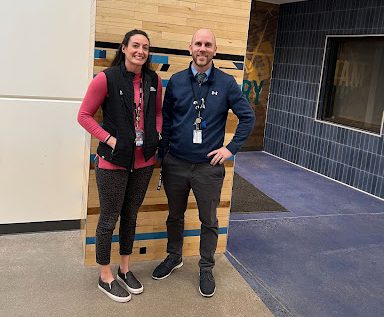 Greeley West assistant principals Mr. Aaron Allen and Ms. Amy Zulauf have both recently received some exciting news: Allen has received the position of Principal at Northridge High School, and Zulauf has received the position of Principal at Greeley Central.  
Although this is great news for the school district, and for the new principals, Greeley West staff and students will miss both of them.  Sophomore Kaityln Fenton said, "Whenever Ms. Zulauf gets on the intercom, it always leaves me in a better mood."  
Even after they have left Greeley West though Allen and Zulauf will still work with Greeley West Principal Mr. Jeffery Cranson.  "I am excited to continue to collaborate with them as we work to improve all schools in Greeley," said Cranson.
Allen is looking forward to his new position. "I am very excited for this new job, and I think it's a great opportunity for me and the district," said Allen.  
Zulauf is excited as well.  "The role of the principal really drives the school. I'm really going to miss West, but I can't wait to take on my new role, and work with the staff and students at Central," said Zulauf.  
Because the school year is still in full swing, Zulauf and Allen will have to double up responsibilities for the remainder of the year, by balancing their assistant principal duties with their new ones.  
"I will still be working very closely with Cranson, and Zulauf, but will also need to be at Northridge for a good amount of time for the remainder of this school year," said Allen.  "It is important I build relationships with the staff at Northridge."
In addition to those two assistant principals leaving for jobs in the district, athletic director Mr. Ryan Hilbig will also be leaving West.  He has accepted a position as athletic director and assistant principal at Berthoud High School.
"The primary reason for my accepting this position is really because I have two young daughters under the age of 3, and Berthoud is closer to home, my daughters and daycare," said Hilbig.
All of these members of staff will be missed, and Greeley West sends them their best regards and luck in the future.